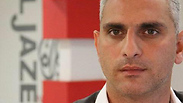 The Government Press Office (GPO) intends to cancel an Al Jazeera journalist's press accreditation on the grounds that he is biased towards the Palestinians, said GPO director Nitzan Chen on Wednesday.

Chen said Al Jazeera correspondent Elias Karram's press card would be revoked, pending a hearing, because he told television station Dar al-Iman last year that he was actively siding with the Palestinians in his work as a reporter.

Karram is an Israeli Arab citizen from Nazareth, Chen's office said.

Prime Minister Benjamin Netanyahu said last month he would work to close down Qatar-based Al Jazeera, accusing it of inciting violence in Jerusalem.

"These remarks call into question the ability of Karram, the representative of a foreign network, to cover—as a professional journalist—the Israeli-Palestinian conflict in which, according to his own words, he is taking an active part," Chen wrote in a statement.

Walid al-Omary, Al Jazeera's bureau chief in Jerusalem, declined to comment.

A clip from the interview Karram gave to the little-known TV station shows him saying, "A Palestinian journalist working in occupied territory ... is no different to a politician or a teacher (resisting Israel's occupation).

"The journalist is doing his part ... with the pen, radio, voice or camera. You are part of this nation and you resist in your own way."

Al Jazeera has been repeatedly criticized for presenting a slanted, overtly biased perspective on the Israeli-Palestinian conflict. In one such instance, shown in the picture below, the site reported on the deadly terrorist attack that took the life of Border Police officer Hadas Malka by mentioning the three Palestinian terrorists' deaths alone.

Earlier this month, Communications Minister Ayoub Kara said plans were afoot to revoke the media credentials of Al Jazeera's journalists, close its Jerusalem bureau and remove the station's broadcasts from local cable and satellite providers' bouquets.

Such a closure does not appear imminent, however, and an Israeli official said a legal process was still required to implement most of the proposed steps.

The move adds further pressure on Qatar, which has been involved in a dispute with a number of Arab countries over alleged support for Islamist militant groups, which it denies.

Al Jazeera said in July that Israel was aligning itself with the four Arab states—Saudi Arabia, the United Arab Emirates, Egypt and Bahrain—that have severed diplomatic and commercial ties with Qatar.

After Kara's announcement, the Foreign Press Association in Israel criticized the planned moves.

"Changing the law in order to shut down a media organization for political reasons is a slippery slope," association executive secretary Glenys Sugarman said.

Al Jazeera has also faced government censure in Egypt. In 2014, Egypt jailed three of the network's staffers for seven years and closed its offices. Two staffers have been released but a third remains imprisoned.