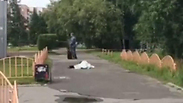 Surgut, Siberia
Photo: EPA
Islamic State claimed responsibility for a stabbing attack in the in the Siberian city of Surgut that injured eight people on Saturday, the group's AMAQ news gency said.

Russian law enforcement said they had killed the attacker and is investigating the incident as attempted murder.

The knife-wielding man went on a stabbing rampage, wounding seven people before police shot and killed him.

A statement from Russia's Investigative Committee said the mid-day attack on a central street in Surgut said the suspect had been identified as a local resident in his early 20s. It said information was being sought on his psychiatric condition, suggesting authorities did not suspect terrorism as the likely motive.

The statement gave the number of victims at seven, down from an earlier tally of eight.

Four of the wounded were in serious condition, state news agency Tass reported, citing regional health official Vladislav Nigmatulin.

Surgut, with a population of about 320,000, is an oil- and gas-producing center 2,100 kilometers (1,300 miles) northeast of Moscow.