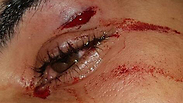 Soldiers attacked by youth after allegedly being mistaken for Arabs
Two combat soldiers on break from the army were at a public park in the company of a young woman when a group of youths assaulted them, shouting 'You are Arabs'; police also investigating whether the confrontation was over the woman.
The Israel Police has launched an investigation into an incident Friday night in which two soldiers on break from the army and another person were attacked in a public park in Pardes Hannah by a group of youths—allegedly because the assailants thought they were Arabs.
Another possible line of inquiry is that the confrontation broke out because the complainants were with a young woman who knew one of the alleged attackers.
The soldiers were lightly wounded and treated at Hillel Yaffe Medical Center in Hadera.
According a report on Israel Radio, the two combat soldiers from the Golani and Kfir brigades were sitting at a public park in the company of a young woman when they were attacked by a group of men.
The assailants allegedly shouted "You are Arabs" at the soldiers, hitting them using a hookah pipe and other blunt objects.
The father of one of the soldiers called the police after learning his son was in the hospital. "Soldiers go on vacation and are attacked by criminals just because they look like Arabs. It's a disgrace," said the father. "They (almost) lynched them, it could have ended in death. How did we stoop so low? And even if they were Arabs, (does this mean) we should harm them? We are shocked and demand that the lawbreakers be brought to justice."