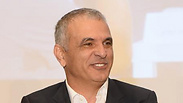 Finance Minister Moshe Kahlon
Photo: Eilat-TV
Israel will strive to push unemployment below 4 percent, Finance Minister Moshe Kahlon said Monday after the Central Bureau of Statistics released the latest unemployment figures, which hit a low of 4.1%, down from 4.3% last month.

The figure is the lowest since records began in 1995. According to the CBS figures, the total number of people in the labor force aged 15 and over was 4 million, with 3.836 million employed and approximately 164,000 unemployed.

The participation rate in the labor force among people aged 25-64 rose to 80.1% compared with 79.8% in June. Among males aged 25-64 the participation rate remained stable at 84.9% and among women in the same age group the rate rose to 75.4%, up from 74.7% in June.

"The unemployment rate of 4.1% is among the lowest we have seen in decades, and this is the result of actions we have taken," Kahlon said. "We have encouraged people with low salaries to go out to work, and we have invested in factories, in companies, in hi-tech, in creating jobs."

The finance minister described the figures as good news both socially and economically. "I wouldnt like to see a reality where a husband or wife wake up in the morning and they don't have a job to go to…. These are figures that lift people out of poverty, and that is a top priority for us. A couple that goes out to work pays taxes, purchases goods and drives the wheels of the economy.

"We have a strong economy with low unemployment, but we are still fighting to push the figure below 4%, even though 4% is an amazing figure we haven't seen in decades."

Article reprinted with permission from TPS .