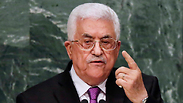 PA President Abbas
Photo: AP
Abbas reportedly disappointed with Trump administration
Al-Hayat newspaper reports the Palestinian president is displeased with the Trump administration's refusal to endorse PA's terms for renewed negotiations with Israel, including construction freeze and two-state solution; Abbas now looks to UN, Hague as alternatives; Kushner meets with Jordan's Abdullah, Qatar's Emir to discuss peace process.
Days before Palestinian President Mahmoud Abbas's meeting with US President Donald Trump's Middle East envoys Jared Kushner and Jason Greenblatt, Palestinian sources told the Al-Hayat newspaper Abbas has shown his disappointment with several international and local elements, including the current American administration.
Abbas expects to receive some concrete replies to the conditions he placed on returning to the negotiations table with Israel, according to the report.
The terms are similar to past terms posed by Abbas, including freezing Israeli construction in the disputed West Bank territory and striving towards a two-state solution—conditions the Trump administration has thus far refused to commit to.
Abbas's anger towards the Americans also stems from their objections to the sanctions he has imposed against Hamas in the Gaza Strip, which harm not just the terror organization but also the strip's residents.
The Palestinian president is therefore considering several political and diplomatic courses of action, the Al-Hayat report said, including turning to the United Nations General Assembly to achieve full membership for the Palestinians; or dismantling the Palestinian Authority, its government and legislative council and returning all PA responsibilities to the Palestinian Liberation Organization's Executive Committee, which would then be the only executive authority in the region.
The Palestinian Authority is also reportedly entertaining the notion of turning to the International Criminal Court in The Hague and a Palestinian delegation is therefore set to meet with the court's attorney general.
In a meeting held Tuesday between Trump's son-in-law Jared Kushner, who's responsible for the Israeli-Palestinian peace process, and King Abdullah of Jordan, the two discussed efforts to jumpstart talks again and creating meaningful, serious negotiations between Israel and the Palestinians, based on the two-state solution.
In the meeting, King Abdullah stressed the important role the United States plays in the peace process and to President Trump's commitment to achieving peace between Israel and the Palestinians.
Apart from the meeting in Jordan, the American delegation also met with the Emir of Qatar, Sheikh Tamim bin Hamad Al Thani, on Tuesday. The parties once again discussed the peace process as well as the war on terror.