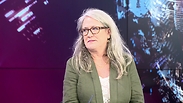 The new Iranian threat 'exposes the weakness of the nuclear agreement'
Analysis: Iran has declared that it needs only five days to enrich its uranium to 20%, enabling it to produce nuclear weapons; Institute for National Security Studies Senior Fellow, Dr. Landau, states that if this is true, 'it means that within a few weeks they'll be able to reach a reasonable amount at an even higher percentage—and then we'll have a problem.'
Five days—this is the time frame Iran said Tuesday it needs in order to ramp up its uranium enrichment to 20 percent, a level at which the material could be used for a nuclear weapon.

"If the Iranians can actually reach enriched uranium at 20 percent, it means that within a few weeks they'll be able to reach a reasonable amount at an even higher percentage—and then we'll have a problem," says Dr. Emily B. Landau, senior researcher at the Institute for National Security Studies (INSS) and head of the Arms Control and Regional Security Program.

"This is an Iranian attempt to deter the Trump administration from imposing further sanctions and punitive measures against their very provocative behavior," Landau added. "Even if the Iranians cannot achieve that target within five days, we still have a problem because Iran continues its aggressive path.

"You have to remember that such threats were also made during the time of Obama, who as president did everything to calm Iran."

Under the nuclear agreement signed in 2015 with the group of six world powers (the United States, Russia, China, Britain, France, and Germany), Iran relinquished most of its uranium enriched at 20 percent.

"From the beginning, the agreement was problematic," said Landau. "It is a weak agreement full of loopholes, and its problems are being exposed one by one.

"We now understand that in a few weeks or months they'll be able to stock up (on enriched Uranium—ed), so what did this agreement accomplish? And what can be done against their threats? It is too late to cancel the agreement, but it has to be reinforced by a number of clauses.

"The attitude toward Iran's behavior must be changed: missile tests, increased presence in Syria, the transfer of weapons to Hezbollah, and the establishment of missile manufacturing plants in Lebanon and Syria. All these things must be answered with determination."

According to Landau, "Iran is acting in a way that allows us to predict its moves. The fact that it is rational does not mean that it is not aggressive, or that it does not have an agenda of regional hegemony. We slowly see how it expresses these (points). It spreads out, so that wherever anyone else leaves—Iran enters. We see this in both Iraq and Syria.

"This is a dangerous regime for the Middle East," concluded Landau. "Not only for Israel, but for all countries."