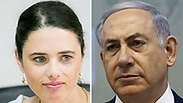 Ayelet (L) and Netanyahu
Photo: Noam Moskovich, AFP
Prime Minister Benjamin Netanyahu and several top ministers came out on Monday against the High Court of Justice's decision, which ruled that the State of Israel may no longer detain infiltrators indefinitely.

Deciding on the appeal, the HCJ ruled that the state cannot detain illegal infiltrators for more than 60 days. The appeal was submitted in 2015 by two Eritrean nationals facing deportation and six human rights organizations.


According to the existing law, infiltrators who refuse to be deported can be held against their will indefinitely at Saharonim Prison in the Negev, until they are "convinced" to be deported to another country.

However, the HCJ also ruled that the petitioners did not prove that the countries infiltrators are being deported to should necessarily be considered dangerous, thus allowing their continued deportation.

Prime Minister Benjamin Netanyahu, who in the past has repeatedly championed the infiltrators' deportation, said in response to the HCJ's decision that "we will have to bring about an amendment to the legislation in order to enable the agreements with the African countries to be implemented" in order to transfer infiltrators to them.

Netanyahu added that "Israel's policy on the issue of infiltrators is made up of three parts: the fence we established in the south that has completely stopped the infiltrators; the agreement reached with countries in Africa to transfer infiltrators to them; and the issue of (law—ed) enforcement."

Justice Minister Ayelet Shaked also came out against the HCJ decision, saying that "I will work together with the Inetrior Minister (Aryeh Deri) to amend the legislation that will enable the expulsion without their consent. We will fight until we get the necessary results. "

Interior Minister Aryeh Deri, for his part, criticized the judges' decision. "The decision not to allow the state to expel infiltrators against their will is very problematic, as it takes away from the state a very important tool and allows any infiltrator who wants to stay to remain in Israel.

"Immediately after the High Court of Justice's ruling, I spoke with Justice Minister Ayelet Shaked and told her I was considering an amendment to the law that would allow the state to deport infiltrators from the country against their will "

Deri added: "We have to take care of the citizens of the State of Israel, the residents of south Tel Aviv and other cities whose lives are not worth living."

That said, Deri stated that "I am pleased that the High Court of Justice has allowed us to continue to remove infiltrators to a third country."

Minister of Public Security Gilad Erdan also voiced his displeasure with the decision. "This policy won't be effective, since an infiltrator will prefer to sit for 60 days in jail and stay in Israel than move to Rwanda or Uganda."