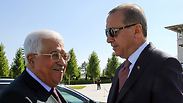 Abbas (L) and Erdoğan
Photo: AP
Erdoğan and Abbas agree 'occupation impairs possibility of 2 states'
Palestinian Pres. Abbas meets in Ankara with Turkish Pres. Erdoğan; the two express support for Palestinian state with Jerusalem as its capital; Abbas thanks Erdoğan for 'stubborn stance against Israeli measures at the Al-Aqsa mosque and the provocations of Muslims.'
Turkish President Recep Tayyip Erdoğan met on Monday with Palestinian President Mahmoud Abbas in the Turkish capital of Ankara. The two leaders expressed support for a Palestinian state with Jerusalem as its capital, with Erdoğan saying that "the key to success lies in defending the rights of the Palestinians." He also called on Israel to stop the "occupation attempts" that undermine the feasibility of a two-state solution."
Erdoğan reiterated Turkey's official position supporting two states within the 1967 borders, and said that Turkey would continue to support the recognition of a Palestinian state in all international forums. "Turkey is ready to support efforts to revive the peace process," stated Erdoğan. He added that he does not want Israel to continue to control the narrative covered by the press, allegedly through blood, tears and confrontation.
"We emphasize that we are ready and committed to a historic peace deal under the auspices of President Trump, and we hope that our people will live with dignity and sovereignty in an independent state with east Jerusalem as its capital," Abbas said in a press conference with President Erdoğan. He also thanked Erdoğan and the Turkish people for their "stubborn stance against the Israeli measures in the Al-Aqsa Mosque and their provocations of Muslims."
Following their meeting, Abbas stated, "I have had fruitful talks with President Erdoğan on various issues of interest to both sides, and I have updated him on recent developments in our region and especially on the results of the recent visit of the American delegation and the efforts to convene the Palestinian National Council."
Abbas added that he wanted to end the internal divide between the Palestinian Authority and Hamas (which rules the Gaza Strip), saying that "there will be no state in Gaza and no state will be established without Gaza."