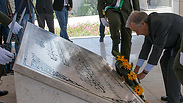 Antonio Guterres laying wreath at Yasser Arafat's grave
Photo: EPA
UN chief meets with families of Palestinian terrorists
Day after UN secretary-general promises President Rivlin to treat Israel equally, Antonio Guterres tells families of Palestinian prisoners locked up in Israel receiving medical treatment, 'we understand their suffering'; Palestinians urge him to convene meeting in GA on matter.
United Nations Secretary-General Antonio Guterres met Tuesday evening in Ramallah with families of terrorists and Palestinian prisoners who are locked up in Israel and receiving medical care while serving their sentences.

According to a report in the Palestinian Wafa news agency, the family members asked Guterres "to act seriously to save the lives of more than 6,500 male and female Palestinian prisoners who are being subjected to serious harm."

Chairman of the Palestinian Prisoners Authority, Issa Qaraqe, asked the secretary-general, who also visited Yasser Arafat's grave, to convene a special meeting in the UN General Assembly on the matter, to which Guterres reportedly responded:

"We understand the suffering of the Palestinian prisoners, and are working with the relevant officials in order to stop their suffering."

Also present at the meeting with Qaraque were Secretary General of the PLO Executive Committee Saeb Erekat and the Palestinian UN envoy Riyad Mansour.

At the conclusion of his meeting on Monday with President Reuven Rivlin, Guterres said that while he did not always agree with Israeli policy, "You can be sure that I will be careful to implement the UN Charter to treat the State of Israel with equality."

Guterres is currently in the midst of a four-day visit to Israel and the Palestinian Authority as part of a wider tour of the Middle East—his first since taking up his new position at the end of last year.