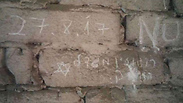 High schoolers vandalize wall at Auschwitz-Birkenau
Students write date of their visit, name of their school and add a drawing of a Star of David onto a wall on Block 25 in Birkenau; 'We're trying to think of the best and most appropriate way to apologize,' says member of school delegation; school says will 'handle the matter with all due gravity.'
Students from the Ort Rogozin high school in Migdal HaEmek have vandalized a wall at the Auschwitz-Birkenau concentration camp.

The students wrote the date of their visit—August 27, 2017—on the Block 25 wall in Birkenau alongside the name of their school and a drawing of a Star of David.

One of the students who went on the school's delegation told Ynet, "Like all of the kids in our year, I too am shocked and regret what happened. We denounce this kind of behavior. None of us even knew about this. I can assure you that if any of us had seen this, it wouldn't have happened."

She went on to say the student responsible for the act, "merely wanted to leave his mark, show pride of his delegation. I'm sure he understands the enormity of his mistake and the importance of the site."

Regardless of who is responsible, the student said the entire delegation bear responsibility for the act of vandalism. "This is an inappropriate act that hurts us all. It goes against all of the values our delegation believes in. We went there to remember and hear the stories and show presence of students from Israel. Each of the students treats this as if he or she had done it. We've taken this to heart," she said.

"We're trying to think of the best and most appropriate way to apologize," she added.

In a statement, the school said, "We are outraged by this incident, and we will handle it with all due gravity. We've established a special inquiry team, and we will take action based on the findings."

The Ministry of Education said, "We are shocked by the photos and completely condemn such ugly displays of vandalism. We are looking into the matter in order to carry out an in-depth, uncompromising process, both on an educational and disciplinary level."

The National Student and Youth Council also condemned the "embarrassing behavior, which is the opposite of what the delegation is about. The purpose of the delegations of Israeli teenagers to Poland is to commemorate the Holocaust in the horrific place where it happened.

"This is only a small problematic handful of students, and we are confident they will be dealt with in the firmest of hands. We're hopeful the lesson will be learned and this will not happen again."