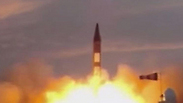 Purported Iran ballistic missile test
Photo: AFP, IRIB TV
Video footage aired on Iranian television purporting to show the launch of a new Iran-made medium-range ballistic missile is reportedly fake, according to Fox News, which cited two unnamed US officials.

According to the aforementioned officials, the video shown on state broadcaster IRIB on Saturday was from a failed test in late January, when the missile exploded shortly after launch.

Iran unveiled the new Khoramshahr missile during a high-profile military parade in Tehran on Friday, the 37th anniversary of the outbreak of the Iran-Iraq war.

Footage aired on Iran's state TV of its purported ballistic missile test

The missile was named after a city in southwestern Iran that was a ravaged in that war and liberated by the Iranians after a month of fierce fighting.

The missile reportedly has a range of 2,000km, weighs 1,800 kg (4,000 lbs) and is able to carry multiple warheads. Iran's Defense Minister Brig. Gen. Amir Hatami claimed the missile can "evade the enemy's air defense line and be guided from the moment of launch until the target is hit."

After the alleged missile launch, US President Donald Trump tweeted angrily, "Iran just test-fired a Ballistic Missile capable of reaching Israel. They are also working with North Korea. Not much of an agreement we have!"

Only days earlier, Trump told the UN General Assembly that Iran was building its missile capability and accused it of exporting violence to Yemen, Syria and other parts of the Middle East.

He also criticized a 2015 pact that the United States and other world powers struck with Iran under which Tehran agreed to restrict its nuclear program in return for relief from economic sanctions.

Iran's President Hassan Rouhani attacked Trump's comments at his own UN speech, saying his country would not be the first to breach the nuclear agreement, "but it will respond decisively to its violation by any party."

He told a news conference that if the US decides to break the agreement, "any choice and any option" are open for Iran—but he dismissed Trump's "baseless accusation" that the nuclear deal may be providing cover for Iran's eventual construction of nuclear weapons.