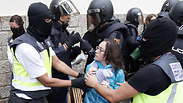 Spanish police clash with would-be voters in Barcelona
Photo: AFP
Hundreds wounded as Spanish police clash with voters in Catalonia
As tensions mount in Spain, Catalans go out to vote in independence referendum despite police orders, leading to clashes at polling stations and ballot boxes being seized; Civil Guard officers smash their way into polling station where Catalonia regional president Carles Puigdemont due to vote.
Spanish riot police smashed their way into polling stations to try to halt a disputed independence referendum on Sunday and fired rubber projectiles at protesters outside a Barcelona polling station. The Catalan Health Department said over 840 people have injured due to police action, while Spain's Interior Ministry said 33 police officers have been hurt.
The officers fired the projectiles while trying to clear protesters who were trying to impede National Police cars from leaving after police confiscated ballot boxes from the voting center. Voters chanted "we are people of peace" and "we are not afraid" in response to police moves.
The Spanish government has ordered police to stop the voting process, saying it's illegal.
An AP photographer saw several people who had been injured during the scuffles outside Barcelona's Rius i Taule school, where some voters had cast ballots before police arrived.
Manuel Conedeminas, a 48-year-old IT manager who tried to block police from driving away with the ballot boxes, said agents had kicked them before using their batons and firing the projectiles, which were ball-shaped.
Elsewhere, Civil Guard officers, wearing helmets and carrying shields, used a hammer to break the glass of the front door and a lock cutter to break into the Sant Julia de Ramis sports center near the city of Girona. At least one woman was injured outside the building and wheeled away on a stretcher by paramedics.
Clashes broke out less than an hour after polls opened, and not long before Catalonia regional president Carles Puigdemont was expected to turn up to vote at the sports center. Polling station workers inside the building reacted peacefully and broke out into songs and chants challenging the officers' presence.
Spanish riot police forcefully removed a few hundred would-be voters from a polling station at a school in Barcelona.
Daniel Riano was inside when the police pushed aside a large group gathered outside busted in the Estela school's front door.
The 54-year-old Riano said that "we were waiting inside to vote when the National Police used force to enter, they used a mace to break in the glass door and they took everything."
He said that "one policeman put me in a headlock to drag me out, while I was holding my wife's hand. It was incredible. They didn't give any warning."
National Police and Civil Guard officers also showed up in other polling centers where Catalan officials were expected.
The Spanish government and its security forces are trying to prevent voting in the independence referendum, which is backed by Catalan regional authorities. Spanish officials had said force wouldn't be used, but that voting wouldn't be allowed.
Spanish Deputy Prime Minister Soraya Saenz de Santamaria said Spanish police weren't going after voters, but referendum material.
"They have complied with the orders of justice. They have acted with professionalism and in a proportionate way. They have always sought to protect rights and liberties," she said.
Despite the difficulties piled up by Spanish authorities Catalans defied rain and police orders to leave designated polling stations and went out to vote.
Joaquim Bosch, a 73-year-old retiree at Princep de Viana high school, where a crowd of 20 people was growing Sunday morning, said he was uneasy about a possible police response to the crowds.
"I have come to vote to defend the rights of my country, which is Catalonia," Bosch said. "I vote because of the mistreatment of Catalonia by Spain for many years."
Several members of the Catalan regional government also cast their ballots. Catalan regional president Puigdemont voted in Cornella de Terri, near the northern city of Girona, after police took over control of the original polling center where he was due to appear, his spokesman Joan Maria Pique told The Associated Press.
Regional vice president Oriol Junqueras also found his designated polling station taken over by police and moved to a different location where he eventually voted, regional broadcaster TV3 said.
Spain's Constitutional Court has suspended the vote. Regional separatist leaders pledged to hold it anyway, promising to declare independence if the "yes" side wins, and have called on 5.3 million eligible voters to cast ballots.
Some 2,300 facilities had been designated as polling stations, but it was unclear how many were able to open, with police sealing off many voting centers in the hours before the vote to prevent their use. Others were filled with activists determined to hold their ground.
The Ministry of Interior didn't provide a number late on Saturday when it said that "most" of them had been sealed off and that only "some" remained occupied.
In an effort to overcome myriad obstacles, Catalan officials announced that voters would be allowed to cast ballots in any location and using ballots printed at home, rather than in designated polling stations as previously announced.
Regional government spokesman Jordi Turull also said that a group of "academics and professionals" would serve as election observers. The official electoral board appointed by the regional parliament was disbanded last week to avoid hefty fines by Spain's Constitutional Court.
"We are under conditions to be able to celebrate a self-determination referendum with guarantees," Turull said in a press conference. "Our goal is that all Catalans can vote."
Tension has been on the rise since the vote was called in early September, crystalizing years of defiance by separatists in the affluent region, which contributes a fifth of Spain's 1.1 trillion-euro economy ($1.32 trillion).
Spain's 2008-2013 financial crisis and harsh austerity measures fueled frustration in Catalonia for setbacks in efforts to gain greater autonomy, with many Catalans feeling they could do better on their own.
Courts and police have been cracking down for days to halt the vote, confiscating 10 million paper ballots and arresting key officials involved in the preparations. On Saturday, Civil Guard agents dismantled the technology to connect voting stations, count the votes and vote online, leading the Spanish government to announce that holding the referendum would be "impossible."
On Saturday, Spain's foreign minister dismissed the planned vote as anti-democratic, saying it runs "counter to the goals and ideals" of the European Union.
"What they are pushing is not democracy. It is a mockery of democracy, a travesty of democracy," Alfonso Dastis told The Associated Press in an interview.
Dozens of protests have been taking place in Catalonia and across Spain, some to condemn the crackdown on the vote and others supporting the nation's unity against the independence bid.
No minimum turnout has been set for the validity of the vote by Catalan authorities. Regional government officials initially hoped for a turnout greater than the 2.3 million people who voted in a mock referendum in 2014 in which 80 percent favored independence but have recently signaled that they would consider the vote valid with a lower number given the challenges to hold it.
Separatist Catalan leaders have pledged to declare independence from Spain within 48 hours of Sunday's vote if the 'yes' side wins.