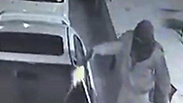 As Jews across the country began their fast on Yom Kippur on Friday evening, arson attacks and shootings took place over the weekend in several Arab towns, causing property damage and widespread panic.

On Friday evening, a restaurant on a main street in Qalansawe caught fire in what was a suspected arson.

Violence and shooting in Arab sector

Another incident took place at the same time in Fureidis, as a masked man was recorded on camera entering a residential neighborhood in the city and firing several shots at a private car before being attacked by the owner of the vehicle.

Following a brief scuffle, the vandal managed to escape.

Gunshots were also fired in an Arab settlement in the southern part of the Triangle.

Meanwhile, in Tayibe, on Friday morning unknown assailants opened fire on a house and vehicles while children were playing in the yard. On Friday night, unknown assailants shot at another house and set ablaze a nearby car.

The municipality of Tayibe called on the public to take part in a demonstration in the city on Monday in protest of the murder of DJ Nazeh Masarwe, who was killed a few days ago after finishing work at a wedding. The demonstration is also taking place against the backdrop of a recent surge in violence and crime, calling for those responsible to be detained.

Violent incidents have been plaguing the Arab sector in recent years, with bystanders—sometimes children—getting caught in the crossfire, as extortion, gang and honor-based crimes continue to disrupt the lives of the Arab citizens.