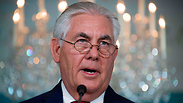 Secretary of State Tillerson
Photo: AFP
Chief US diplomat Tillerson says he never considered resigning
Sect. of State Tillerson holds press conference refuting claims of impending resignation; asked whether he called Trump 'moron,' Tillerson sidesteps question, calling it 'petty nonsense'; Trump: NBC should apologize to America for fake story.
US Secretary of State Rex Tillerson said on Wednesday he had never considered resigning and that he was committed to Donald Trump's agenda but declined to directly address whether he had referred to the president as a "moron" as NBC News has reported.

The top US diplomat, whose tenure has been dogged with rumors about unhappiness with Trump's policies and rhetoric, said he was committed to Trump's agenda as much today as he was when he first accepted the offer to serve as secretary of state.

Tillerson spoke after NBC reported that Vice President Mike Pence and other top officials had intervened to persuade him not to resign during the summer as tensions rose between Trump and Tillerson.

Tillerson's press conference (צילום: רויטרס)

"The vice president has never had to persuade me to remain as secretary of state because I have never considered leaving this post," Tillerson said in a hastily prepared news conference at the State Department. "I am here for as long as the president feels I can be useful to achieving his objectives."

Vice President Mike Pence corroborated Tillerson's account, saying he had never discussed with Secretary Tillerson the prospect of the top US diplomat resigning from President Trump's administration.



"The vice president can also confirm that, as the secretary of state made clear, at no time did he and the secretary ever discuss the prospect of the secretary's resignation from the administration," Pence's office said in the statement posted on Twitter by NBC News.

Tillerson then continued speaking of his devotion to his role in the administration. "My commitment to the success of our president and our country is as strong as it was the day I accepted his offer to serve as secretary of state," he said.

In a session with Trump's national security team and Cabinet officials at the Pentagon, Tillerson openly criticized the president and referred to him as a "moron," NBC reported, citing three officials familiar with the incident.

Tillerson, who said he had not spoken to Trump on Wednesday, sidestepped the issue when taking questions after his statement.

"I'm not going to deal with petty stuff like that," he said "This is what I don't understand about Washington... I'm not from this place, but the places I come from we don't deal with that kind of petty nonsense. And it is intended to do nothing but divide people, and I'm just not going to be part of this effort to divide this administration."

Tillerson also said of Trump: "He's smart. He demands results."

Trump appeared to undercut Tillerson over the weekend when the president tweeted that he told him that he was "wasting his time" trying to negotiate with North Korean leader Kim Jong Un over Pyongyang's nuclear and missile programs.

Tillerson offered a vigorous defense of both the US president and his foreign policy, even though the White House and State Department have at times appeared to differ on policy.

"President Trump's foreign policy goals break the mold of what people traditionally think is achievable on behalf of our country. We're finding new ways to govern that deliver new victories," Tillerson said.

In a tweet, Trump called on NBC to apologize for its story, saying both Tillerson and Pence had refuted it. "The @NBCNews story has just been totally refuted by Sec. Tillerson and @VP Pence. It is #FakeNews. They should issue an apology to AMERICA!" Trump tweeted.

Tillerson's insistence that he completely supports Trump's agenda runs counter to what some administration officials have privately described as him chafing against some of the president's pronouncements and off-the-cuff decisions, sometimes contrary to advice from senior advisers.

Tillerson has also often found himself at odds with the president on a range of issues, according to current and former US officials and media reports.

He has taken a more hawkish view on Russia and tried to mediate a dispute among key US Mideast allies after four Arab nations boycotted Qatar over its alleged extremist ties.

Trump undercut Tillerson's mediation effort, calling Qatar "a funder of terrorism at a very high level." Trump has since adopted a stance closer to the State Department's on this issue.

Responding to Tillerson's press conference, White House spokeswoman Sarah Sanders said President Trump retained confidence in Secretary of State Tillerson.

"As we've said many times before, if the president doesn't have confidence in somebody, that person will not remain in that position," Sanders told reporters on Air Force One.