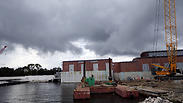 Darkening sky above Louisiana
Photo: AP
Coastal residents from southeast Louisiana to the Florida panhandle braced for the effects of fast-moving Hurricane Nate, expected to hit sometime time Saturday night—possibly with Category 2 strength.

The National Hurricane Center in Miami projected that Nate would brush by the southeast tip of Louisiana, near the mouth of the Mississippi River, around 7 pm Saturday. A late Saturday landfall was projected for the Mississippi Gulf Coast - posing threats of heavy rain, high tides and strong winds.

States of emergency were declared in Louisiana, Mississippi and Alabama; officials announced evacuation orders in low-lying areas and the opening of shelters for anyone who needs them.


Louisiana Gov. John Bel Edwards said he spoke with President Trump on Saturday morning. "He assured me that LA would have all the assistance we need as we prepare for #Nate," the governor posted to Twitter.

Edwards thanked Trump for approving Louisiana's predisaster emergency declaration for 17 south Louisiana parishes.

Nate was located at 10 am CDT Saturday about 180 miles (285 kilometers) south-southeast of the mouth of the Mississippi River. It was still a Category 1 storm but was expected to gain strength before making landfall.

Nate has already killed at least 21 people in Central America.

A hurricane warning is currently in effect from Grand Isle, Louisiana, to the Alabama-Florida border and also for metropolitan New Orleans and nearby Lake Pontchartrain. Tropical storm warnings extended west of Grand Isle to Morgan City, Louisiana, and around Lake Maurepas and east of the Alabama-Florida border to the Okaloosa-Walton County line in the Florida Panhandle.

In Louisiana, Edwards mobilized 1,300 National Guard troops, some headed to New Orleans to monitor the fragile pumping system there. With forecasts projecting landfall on the central Gulf Coast as a Category 1 hurricane, Edwards urged residents to ready for rainfall, storm surge and severe winds—and to be where they intend to hunker down by "dark on Saturday."

Edwards said forecasts for the fast-moving storm indicate the greatest threats are winds and storm surge. The hurricane center warned that Nate could raise sea levels by 4 to 7 feet (1.2 to 2.1 meters) from Morgan City, Louisiana, to the Alabama-Florida border. It had already had caused deadly flooding in much of Central America.

A White House statement early Saturday said Trump has authorized the Federal Emergency Management Agency and the Department of Homeland Security to coordinate all federal disaster relief efforts.

In New Orleans, the city's pumping system remains fragile but is working. Two flash floods this summer led to revelations about personnel and equipment problems at the agency that runs the system that drains the city. New Orleans Mayor Mitch Landrieu said 109 of its 120 pumps are functioning, which is 92 percent capacity.

"We are ready for whatever Nate brings our way," Landrieu said of forecasts that Nate could dump 3 to 6 inches (7 to 15 centimeters) of rain on the region—with isolated totals of up to 10 inches (25 centimeters).

Officials ordered the evacuation of part of coastal St. Bernard Parish east of New Orleans ahead of the storm. Earlier Thursday, a voluntary evacuation was called in the barrier island town of Grand Isle south of New Orleans.

On Alabama's Dauphin Island—a barrier island south of Mobile, Alabama—owners hauled boats out of the water ahead of the storm's approach. The major concern was the storm surge was projected to coincide with high tide. Shelters were being open for coastal residents.

"The west end of the island floods in a good thunderstorm," said Chad Palmer, the owner of FinAtics Inshore Fishing Charters, which operates five charter boats on the barrier island.

In neighboring Mississippi, Gov. Phil Bryant declared a state of emergency in six southernmost counties. State officials warned storm surge was the biggest danger in that state's low-lying coastal areas, as well as high winds that could damage mobile homes. The Mississippi Emergency Management Agency announced the opening of shelters on the coast Saturday.