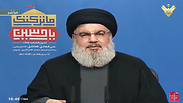 Lebanese public figures speak out against Hezbollah
In rare and risky display, dozens of renowned Shiite public figures, including professors, writers, journalists and businessmen, meet in Beirut to voice their opposition to Hezbollah and call for a transfer of power, claiming oppression and drawing the ire of the terror group's supporters.
Earlier this month, 60 renowned public figures from the Shiite Muslim community in Lebanon gathered for a conference at a hotel in Beirut in an attempt to challenge the dominance of terror group Hezbollah and promoting the Shiite political party Amal in their country.

The conference organizers said the meeting was meant to voice different opinions within the Shiite community.

"We met and debated and found one thing that brings us together concerns the building of a strong state with sovereignty over its land and borders," the group said. "A state that ensures the transfer of power in a periodic manner in accordance with the formulas established in the constitution. A state that enforces its sovereignty through its army and security forces without distractions."

This recent resistance movement is reportedly counting on Hezbollah's involvement in Syria in order to increase their own power in the Lebanese elections, which have not been held since 2009.

The London-based Al-Arab newspaper, which is known for its biased coverage against Hezbollah, said the event was not the first of its kind.

According to their report, in recent years there have been meetings hosted and attended by independent Shiite public figures in an attempt to challenge the hegemony of the two movements, especially Hezbollah, in the Lebanese political arena and the Shiite community in particular.

However, this recent convergence created a wave of negative responses on social media, with Hezbollah and Amal supporters calling them "traitors" and accusing them of being bought and influenced by foreign agents, hinting that those behind the conference were the countries hostile to Hezbollah and its partners, such as Saudi Arabia.

"We face offensive rumors if we take an independent stand against the Shiite duo of Hezbollah and Amal. We know we'll pay for it," said Dr. Harith Sulaiman, an academic and one of the prominent members of the resistance group.

"I have been a political activist and patriot for the last 40 years; I studied in France, and I might have had certain ambitions, but I did not try to achieve my goals through either of the two Shiite powers," he added. "I've now decided to retire because I do not want to follow either of them."

The timing, it seems, is not coincidental.

This conference takes place only a few months before Lebanon's next parliamentary elections. Those who attended it expressed a strong desire to establish "a national opposition front that will correct the division of Lebanese politics"—or, in other words, prepare the ground for an alternative choice for the Shiite community at the ballot, though it is very doubtful they will succeed.

Since Hezbollah's intervention in Syria in favor of the Assad regime, there have been some in the Shiite community to occasionally speak out against the organization, but they are few and far between.

"There exists a Shiite dilemma in Lebanon: We can't dream of being able to break Hezbollah's dominance," admitted media worker and civil activist Ali Al-Amin at the meeting. "Hezbollah is a regional armed force that uses its power to practice sectarian mobilization, and it is troubled by the existence of Shiites who declare that they oppose its policies and ideologies.

"We are paying for our stances against the campaigns that accused us of treachery, and we have been oppressed on several occasions. Any Shiite who opposes Hezbollah is accused of treason."

Most who attended the meeting agreed that the change in Hezbollah's mobilization came following the 2006 Second Lebanon War with Israel, which prompted them to switch "from calling for a fight against Israel to calling for a holy war—jihad," and bolstered their aggressive and warmongering approach towards regional problem-solving.