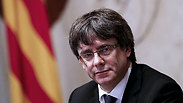 Catalonia President Carles Puigdemont
Photo: AFP
Catalan president Carles Puigdemont stated on Tuesday that he has a mandate to declare independence for the northeastern region, but proposes waiting "a few weeks" in order to facilitate a dialogue with the Spanish government.
Puigdemont spoke of a "need to de-escalate tension and not contribute to increase it with words or actions, adding that he is not planning any acts of aggression, as Spanish security awaited a call to action in the region's airports.
I assume the mandate that Catalonia should become an independent state in the form of a republic (...) I propose suspending the effects of the declaration of independence to undertake talks to reach an agreed solution," Puigdemont told the regional parliament in Barcelona.
Known to be Spain's wealthiest region, Catalonia has historically kept its independence from the Spain in such matters as education and its police force. On Oct. 1, Puigdemont opened the door to a unilateral declaration of independence from Spain on Sunday, after voters defied a violent police crackdown and, according to regional officials, voted 90 percent in favor of breaking away.
Despite Spanish police using batons and rubber bullets to disrupt the banned referendum, which was declared unconstitutional by Madrid, the Catalan government said 2.26 million people had cast ballots, a turnout of about 42 percent.


Though Puigdemont stopped short of seeking the explicit support of the chamber for the declaration of independence in a vote, a move that would have closed the door to any negotiated solution, the declaration plunges Spain into the unknown.
Despite renewed calls for dialogue with Madrid, the Spanish government has said any unilateral declaration of independence would be illegal and has promised action "to restore law and democracy" if the parliament of the autonomous and affluent northeastern region presses ahead.
Theoretically, Spanish Prime Minister Mariano Rajoy could take the unprecedented step of dissolving the Catalan parliament and triggering new regional elections, the so-called "nuclear option."
The Madrid government could also ask the courts to strike down a declaration of independence as unconstitutional.
Rajoy, who has accused separatists of trying to "blackmail (...) the whole nation," said last Saturday that he would not rule out removing Catalonia's government and calling a fresh local election if it claimed independence, as well as suspending the region's existing autonomous status.
"Spain will not be divided and the national unity will be preserved. We will do everything that legislation allows us to ensure this," Rajoy told the German newspaper Die Welt. "We will prevent this independence from taking place."

Spanish national police, denounced by separatists for their use of force to hinder the region's referendum, were not to be seen. However, the Spanish government was reinforcing security at airports and rail stations in Catalonia.

Over 800 people were reported by Catalan officials to have been injured in clashes with Spanish riot police during the referendum, which has pitched the country into its deepest constitutional crisis in decades and deepened a rift between Madrid and Barcelona.
Not all Catalonians, are in favor of independence, as was itnessed on Sunday, when tens of thousands of people took to the streets of Catalonia's capital of Barcelona to express their opposition to any declaration of independence from Spain.
The protesters against Catalonian independence rallied in central Barcelona, waving Spanish and Catalan flags and banners saying "Catalonia is Spain" and "Together we are stronger," as politicians on both sides hardened their positions.


European Council President Donald Tusk also appealed to Puigdemont not to proclaim independence.
"I ask you to respect, in your intentions, the constitutional order and not to announce a decision that would make such a dialogue impossible. Diversity should not, and need not, lead to conflict, whose consequences would obviously be bad for the Catalans, for Spain and for the whole of Europe," Tusk said in a speech in Brussels.
"On this day of hope and suffering, Catalonia's citizens have earned the right to have an independent state in the form of a republic," Puigdemont had said in a televised address following the referendum.
He added that "my government in the next few days will send the results of today's vote to the Catalan Parliament, where the sovereignty of our people lies, so that it can act in accordance with the law of the referendum."