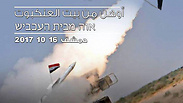 Israel 'weaker than a spider's web'
After the Israel Air Force attacked a Syrian aerial defense battery on Monday morning, which earlier launched a surface-to-air missile towards IAF planes while flying over Lebanon, the Assad regime began circulating false claims that its forces had struck an Israeli jet.

Underpinning its boastful claims, the regime disseminated doctored photos depicting an Israeli jet burning in the skies after being struck by a Syrian surface-to-air missile, accompanied by the caption "even weaker than a spider's web."

Syrian propaganda video

The derisory slogan, most commonly associated with Hezbollah leader Hassan Nasrallah, who famously employed the term to describe Israel after the Second Lebanon War in 2006.

The campaign may have come in response to a social media campaign launched by the Arabic department of the IDF Spokesperson's Unit which included the publication of Israel's military weaponry under the caption "Don't play with fire."

A few hours before the missile was fired at the Israeli plane, the Syrian Defense Ministry published video clips glorifying its air force and the air defense apparatus.

Throughout the day, the embellishing of the Syrian air force's feats against Israel continued when an archive of videos were also published showing dog fights between Syrian and Israeli aircraft during wars they have faced each other.

On Monday afternoon, a few hours after the skirmish, the Syrian army published a statement containing false information.

"Israeli planes infiltrated at 08:51 into Lebanese airspace in Baalbek and the air defense apparatus shot at it. One of the planes was directly hit and forced to flee," the statement read.

"At 11:38 the Israeli enemy launched a few rockets from inside Israel and they fell on one of the Syrian positions in the Damascus suburbs. As a result there was only collateral damage," the statement continued before issuing a warning against further Israeli attacks.

"The military command of the Syrian army warns of the severe consequences of repeated aggressive Israeli attempts and emphasizes its determination to continue the war against the terror gangs that act as Israel's arm in the region."

Prime Minister Benjamin Netanyahu followed up the IDF's retaliation strike against Syria by stating, "Whoever strikes at us, we strike at them. Today they tried to harm our planes—unacceptable.

"The air force acted precisely and swiftly, destroying what needed to be destroyed. We will continue to act in the space as much as necessary to defend Israel's security."