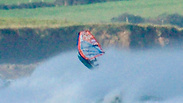 Reuveny surfing through Hurricane Ophelia
Photo: Ronen Reuveny
Israeli champion windsurfer surfs through hurricane
Tom Reuveny—who won gold in 2017 RS:X Youth World Windsurfing Championship—was in Ireland during Hurricane Ophelia; despite winds, he decided to surf in midst of hurricane; 'When we saw the hurricane coming I told my dad I had to surf. This is what I live for,' he says.
Youth world champion windsurfer Israeli Tom Reuveny would not bow down to Hurricane Ophelia, which battered Ireland recently, deciding to take to the seas during the storm, and was documented by his father. "When we saw the hurricane coming I told my dad I had to surf," he said.

The hurricane, the first in 50 years to hit to Emerald Isle, exacted a heavy toll and caused innumerable damages, but failed to impress the 17 year old Reuveny, who took his surfboard out to sea during the storm.

Just three months ago, Reuveny won the gold medal at the 2017 RS:X Youth World Windsurfing Championship in Lake Garda, Italy and is considered a possible successor to Israeli stalwarts Gal Fridman, Shahar Tzuberi and Nimrod Mashiah.

He told Ynet he had been on vacation in Ireland, where he resided with his family when he was younger, recently. "We're in the off-season and so decided to take a windsurfing vacation with my dad in Ireland, sort of going back to my roots. We started out two and a half weeks ago and dad usually surfs right by my side, but not during the storm," he said.

"We went out to the beach and I hesitated a bit at first, because the wind was very strong, about 130 kilometers per hour, and waves were high. But I decided to go in anyway. The sea was crazy, adrenaline was pumping through my body. That's what I live for. I don't have the words to describe what it feels like to be out alone in the ocean during a storm that happens once every 50 years," Reuveny added.

"When the news says to stay away from the sea, those are the days I simply have to be out there," the champion windsurfer boasted.

Reuveny also said he'd been windsurfing since he was eight. "I lived in Ireland for four years when I was younger and learned to surf there," he explained.

Speaking about his extraordinary experience, Reuveny said, "We got up in the morning and all the roads were empty. You can't help but expect an uprooted tree to hit because the winds were insane. We barely managed to stand, and saw the waves crashing on the rocks. I expected my dad whether I can go in. I've surfed through all of Israel's biggest storms before."

"Dad told me not to, but I did it anyway. I'm a competitive windsurfer, I'm not looking for big storms. My dream is to compete in the Olympics, but then again it might also be going to places like this and surfing under these extreme conditions. I'll never forget this day for as long as I live," the young Israeli exclaimed.

British media outlets compared Hurricane Ophelia to the "Great Storm" of 1987, whenhurricane-force winds hit the United Kingdom. The Irish government said the storm is expected to be the worst to hit the island since 1961's Hurricane Debbie, which claimed the lives of 11 people.