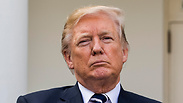 President Trump
Photo: EPA
US judge blocks latest Trump travel ban
Hawaii District Court strikes down President Trump's third attempt at travel ban, saying it 'suffers from precisely same maladies as its predecessor'; ban aimed at blocking entrance of residents of 8 mostly Muslim-majority countries to US; ruling is 'dangerously flawed,' White House says, Department of Justice to appeal.
A federal judge in Hawaii blocked most of US President Donald Trump's latest travel ban Tuesday, just hours before it was set to take effect, saying the revised order "suffers from precisely the same maladies as its predecessor."

The ban, set to go into effect early Wednesday, limited the citizens of several mostly Muslim-majority countries from entering the United States.

The ban, which did not have an expiration date, was announced in September. It pertained to travelers from Chad, Iran, Libya, North Korea, Somalia, Syria and Yemen, along with some Venezuelan government officials and their families.

It was the third set of travel restrictions issued by the president to be thwarted, in whole or in part, by the courts.

The recent Hawaiian verdict became another hurdle the Trump administration will have to overcome to implement Trump's repeated promises for a travel ban, a struggle expected to reach the US Supreme Court before long.

The initial ban, announced in January, incited chaos and protests in airports around the US, before being struck down by a Seattle federal court.

US District Judge Derrick Watson's ruling applied only to the six Muslim-majority countries on the list. It does not affect the restrictions against North Korea or Venezuela, because the state of Hawaii did not ask for that.

The judge also said the proclamation likely runs afoul of a prohibition in immigration law on nationality-based discrimination in issuing visas. Watson had blocked Trump's second travel ban in March.

The policy "suffers from precisely the same maladies as its predecessor: it lacks sufficient findings that the entry of more than 150 million nationals from six specified countries would be 'detrimental to the interests of the United States,'" Watson wrote.

White House spokeswoman Sarah Huckabee Sanders called the ruling "dangerously flawed" and said it "undercuts the president's efforts to keep the American people safe." The Justice Department said it will quickly appeal.

Hawaii Attorney General Doug Chin said in a statement. "Today is another victory for the rule of law."

As a candidate, Trump had promised "a total and complete shutdown of Muslims entering the United States."

In announcing the newest travel restrictions, the White House had portrayed them as necessary consequences for countries that did not meet new requirements for vetting of immigrants and issuing of visas. Those requirements were shared in July with foreign governments, which had 50 days to make improvements if needed, the White House said.

A number of countries made improvements by enhancing the security of travel documents or the reporting of passports that were lost or stolen. Others did not, sparking the restrictions.

Immigrant advocacy groups cheered the Hawaii ruling.

"We're glad, but not surprised, that President Trump's illegal and unconstitutional Muslim ban has been blocked once again," Omar Jadwat, director of the American Civil Liberties Union Immigrants Rights Project, said in a statement.

Reuters contributed to this report.