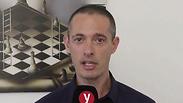 Communication consultant Arik Rosenthal
PR man defends job offer to key witness in PM wife's suit
Communication consultant Rosenthal offers job in his firm to key witness his firm is representing in a suit brought against Prime Minister Netanyahu's wife Sara; refusing to admit wrongdoing, Rosenthal says woman is not a witness yet and agrees to police questioning.
Communications consultant Arik Rosenthal, who represents the attorneys of SR, a former Prime Minister's Residence employee currently suing Prime Minister Benjamin Netanyahu's wife Sara for abuse, refused to apologize for a job offer he'd made to NK, a chief witness in the prosecution's case.

"It doesn't look good. So what? There's an employee who suffered abuse here. That's what Israel should be interested in today. Mrs. Netanyahu mustn't be allowed to continue employing people," Rosenthal said in an interview with Ynet.

News broke yesterday that Rosenthal—who's been accompanying SR during her suit against Mrs. Netanyahu—messaged NK to offer her a position in his public relations firm. NK, who worked on the same floor as SR, was described by prosecution as a witness to Sara Netanyahu's alleged fits of rage, and is considered a key witness in the case.

"We don't know each other. I got your number from acquaintances and would like to offer you a position in our company. We're looking for a personal assistant to the CEO, and if you have any other relevant experience your suitability for other positions will also be examined," Rosenthal texted NK.

The witness in the suit did not immediately respond to the message, only writing, "I'll get back to you tomorrow."

In a Ynet studio interview, Rosenthal said, "What I saw was a woman in distress, real distress, who has undergone very serious abuse, and I understood she needed help. This woman worked under subpar conditions and tried to extricate herself from her workplace, but to no avail."

You're not social services, and you also have a direct link to the case.

"While I'm indeed not social services, when I heard about this case I was shaken to my very core and realized there was nothing to be done. I didn't have a choice, someone had to step up and do something. I know it looks and sounds bad. I took it under consideration, but if you ignore the background noises for a moment—whether I contacted her or not, and she's not a witness yet—you'll have an employee at the Residence using words such as 'prison', 'cruelty', 'I hope I leave her mentally sound.' These are harsh words.

But do you think it proper to offer something like that to a central witness, when it raises suspicion of disrupting the court's proceedings?

"Everything you said just now is made up. She's not a witness at the moment. There's no suspicion of anything. I contacted her to save her and, you know what, I welcome any police questions on the matter. Yesterday the prime minister posted on Facebook that, 'The conspiracy has been discovered.' I'm telling you now: this isn't a conspiracy, it's the cuckoo's nest. What goes on at the Prime Minister's Residence is deplorable."

Rosenthal clarified he in no way believed his actions harmed the chances of SR's suit. "The evidence in this case is rock solid, and everything I just told you about (the witness describing the Residence as a—ed) prison, it's all solid, put together and provable. It harms nothing, save for shifting the discourse onto something else for one day," the adviser said.

"Do I feel like I made a mistake? There's an opportunity here to finally air out what's been happening in the Prime Minister's Residence," he concluded.