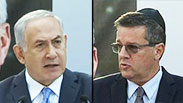 Benjamin Netanyahu (L) and Yuval Rabin
Photo: Central Productions
Netanyahu responds to Rabin's son's critiques: 'I know your pain'
'I disagreed with him,' says Netanyahu of Rabin. 'But I said—and this has been endlessly documented—that he was wrong, not that he was a traitor, but that he was wrong'; nevertheless, Yuval Rabin posits that not much has changed, saying, 'The list of 'traitors' is getting longer with each day, without anyone to say that we must stop this madness.'
Prime Minister Benjamin Netanyahu responded Wednesday to the harsh criticism lobbed at him by slain Prime Minister Yitzhak Rabin's son, Yuval, during a speech he made at his father's memorial service at Mt. Herzl, earlier in the day. After Yuval stated that his father "did not abdicate his responsibilities" and "did not whine," Netanyahu said during a special Knesset session in memory of Rabin: "You'll be surprised, Yuval, but I understand your pain when facing the waves of slander and mudslinging against your father. You turned to me, and I'm accepting the challenge by calling for national reconciliation and unity."

During his speech at Mt. Herzl, Yuval Rabin spoke of how even under the worst attacks he had known, his father took his responsibilities as the leader of Israel very seriously.

"Rabin and his wife were not handled with kid gloves. Rabin did not enact legislation, did not abdicate his responsibilities and did not whine. Even when he was under an onslaught of the most hateful attacks conceivable, he was everyone's prime minister. That's not the way things are today."



Yuval then stressed that "I'd like to make something perfectly clear: what happened 22 years ago was murder. It was politically-motivated. Its goals were clearly defined, and there absolutely was incitement then. That is a truth we must come to terms with.

"We can no longer sit idly by as Yitzhak Rabin is portrayed as a murderer himself who was responsible for the deaths of thousands of Israelis. Enough is enough. The vast majority of the victims of the Oslo Accords were murdered by Hamas. That organization was, and still is, a sworn enemy of Israel," he said in an attempt to clarify any possible misconceptions regarding his father.

At the time of his assassination, Yitzhak Rabin was a frequent target of the radical right-wing opposition, which labeled him "a traitor of Israel." During his Wednesday speech at Mt. Herzl, Yuval Rabin stated that this kind of violent, accusatory and dangerous political discourse is still very much de rigueur: without directly calling out Netanyahu for past and present moves that have been labeled as blatant incitement, Yuval Rabin posited that not much has changed.

"The list of 'traitors' is getting longer with each day. The bank of targets now includes IDF chiefs of staff, police commissioners, heads of the Mossad and artists who hold inconvenient opinions, without anyone to say, 'This stops here, we must stop this madness.'"

Netanyahu also spoke at Rabin's Mt. Herzl memorial, choosing to emphasize the need to protect freedom of speech while rejecting violence. "Rabin's murder obliges us to denounce any form of violence, all the more so when it's directed against elected officials. The freedom of argument and expression must be preserved, but woe unto us if that is not the case. We're committed unequivocally to the basic tenets of democracy, and national decisions will be made at the ballot box and nowhere else."

While speaking at the Knesset, Netanyahu spoke directly to Yuval Rabin and said, "I've said this many times before, but in light of your touching call to action I will repeat this message with full force: I call us all to come together around the security and state issues shared by most of the public."

Turning then to address both of Rabin's children, who were present at the Knesset session dedicated to their father. "Yuval, you shook my hand in 2009, I remember this and I appreciate it. I want to tell a few things from the bottom of my heart, and to you, too, Dalia, after knowing one another from our joint army service. I wish to say to you both: I greatly appreciated your father and greatly liked him, as well. Over the years, we met many times, and when he presented the Oslo Accords (the 1993 peace treaty between Israel and the Palestinians), he acted according to what he believed was in Israel's best interests, and I did and continue to do."

Netanyahu made it a point to separate his past statements against the late Rabin from the tumultuous rhetoric that engulfed Israel at the time and that eventually led to his assassination. "I disagreed with him, but I said—and this has been endlessly documented—that he was wrong, not that he was a traitor, but that he was wrong.

"I also had many other conversations with him. As the prime minister and head of the opposition such conversations are very frequent, and in them we agreed on many things."

Opposition leader Yitzhak Herzog also spoke at the special Knesset session. "Rabin was murdered in what was clearly a politically-motivated murder. The foul murderer didn't hide this when he spoke of the murder before and after it. He wanted to take out and remove the leader of Israel from the path on which he was democratically leading the people.

"There's no denying it—the murder came on the wings of a severe public rip regarding the agreement with the Palestinians. The murder was carried on the shoulders of a violent and radical wind, whose zenith was the 'Pulsa D'Nura' (curse) cast (by anti-Rabin protestors) in Zion Square, at the Ra'anana Intersection, at the Wingate institute, in the attacks in front of Yitzhak Rabin's home, in the attacks against his ministers in front on the Knesset, and so on and so on throughout the country.

"22 years have passed since those three shots pierced the nation's heart. 22 years that Israeli society have been dealing with ramifications of that swift and bitter Saturday evening of November 4, without finding solace."

Herzog continued by stating that "it is the leadership's job to stop the hate and prevent hate mongering. It is its duty not to rip to people to shreds. It is its duty to keep Israel unified and democratic, able to conduct internal arguments and respectfully accept decisions, difficult as they may be, without hate or violence. (To make) hard and painful decisions—something that Rabin was not afraid of—while rigidly maintaining the rules of basic democracy."