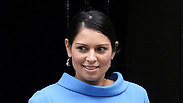 UK minister apologizes for unapproved meetings with Israeli lawmakers
UK Secretary of State for International Development Patel reportedly held 12 meetings during a trip to Israel, among others with PM Netanyahu, Min. Erdan and MK Lapid; after first denying wrongdoing, she eventually admitted meetings were not approved ahead of time; Labour party calls to look into visit and see whether she violated Parliament's lobbying rules.
UK Secretary of State for International Development Priti Patel has come under attack for reportedly violating parliamentary rules by meeting with Prime Minister Benjamin Netanyahu and other politicians without receiving official permission or instruction during a visit to Israel.

Patel was reported to have held 12 meetings during her 13-day trip to Israel, and that at least one of them was conducted at the recommendation of the Israeli ambassador to London.

After being accused of breaking protocol, despite the British Foreign Office stating that it was informed of the visit, Patel published Monday an official letter clarifying the matter.

A member of the Conservative party, Patel was reported by the BBC last Friday to have discussed state matters with Israeli officials without the prior knowledge of her country's Foreign Ministry, as is the protocol.

Confronted with the allegations, Patel initially denied any wrongdoing, telling the Guardian that Foreign Secretary Boris Johnson was aware of the visit, which she had paid for herself, and not with public funding.

In her original statement, Patel said that during her meeting with Netanyahu in August, the two discussed the Israeli political sphere and his recent visit to London. She later changed her position, saying that she had informed the British Foreign Ministry of their meeting in real time, instead of in advance.

Patel apologized for not following protocol in regard to her Israeli meetings. "In hindsight, I can see how my enthusiasm to engage in this way could be mis-read, and how meetings were set up and reported in a way which did not accord with the usual procedures. I am sorry for this and I apologise for it."

She also mentioned that the meetings led to greater cooperation between the two nations, and that Britain's interests were not jeopardized in any way by them.

In addition to Netanyahu, Patel reportedly met with Minister of Public Security, Strategic Affairs and Minister of Information Gilad Erdan, the Foreign Ministry dir. Gen. and MK Yair Lapid, which posted a photo of the meeting to Twitter.
Great to meet with Priti Patel, UK Secretary of State for International Development, today. A true friend of Israel. pic.twitter.com/8q9qSeX7YZ

— יאיר לפיד (@yairlapid) August 24, 2017
Patel further claimed that it was Jewish MP Stuart Polak who was behind her meetings in Israel. Polak is also the director of the Conservative Friends of Israel, a group within the British Parliament dedicated to strengthening ties between Israel and the UK.

British media were quick to report that UK Prime Minister Theresa May had reprimanded Patel for her actions, while the PM's Office responded by saying that May had accepted Patel's apology.

The Labour party, meanwhile, has called to look into Patel's visit and see whether she had violated the Parliament's lobbying rules, with some opposition members going as far as to suggest she resign if she is found to have done so.