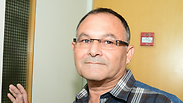 Former Deputy Police Commissioner Mor
Photo: Herzel Yosef
Lenient fmr. deputy commissioner's sentence upheld on appeal
Former Deputy Police Commissioner Nissim Mor, convicted by his own admission of sexually harassing 3 subordinates, given lenient 400-hour public benefit works, reparation sentence; Internal Affairs' appeal to increase sentence to 6 months of community service denied by court; judge in dissenting opinion: 'What message does this sentence send Mor's victims, potential future victims?'
Judge Yoel Eden of the Be'er Sheva District Court sought to increase the sentence of former Deputy Police Commissioner Nissim Mor—who was convicted of sexual harassment and breach of trust based on his own admission—but remained a dissenting opinion, it was discovered Wednesday morning following the court's discussion of an appeal submitted by both Mor and the state.

The appeal was made following Mor's original conviction six months ago by the Be'er Sheva Magistrates' Court.

"The appellant exercised his authority and used the stature of his position for venal attempts to satisfy his own needs while abusing the complainants' distress," wrote Judge Eden in his dissenting opinion in favor of increasing the sentence for Mor, who was sentenced to 400 hours of public benefit service by the Magistrates' Court.

In its own appeal, the state sought to convert the sentence to six months of community service under the auspices of the Israel Prison Service.

However, the head of the judges' panel Yoram Celkovnik and Judge Gilat Shalev decided to retain Mor's original sentence.

"A sentence including public service hours for a grave series of acts committed by someone of the appellant's stature and position does not convey the appropriate message or confidence. Not for the victims of (Mor's) offenses, and not for any victims of such offenses," wrote Judge Eden in his dissenting opinion.

"What message is sent by such sentencing to victims of these offenses, or future possible victims? And what does it do for the recourse needed when such values are repeatedly violated by a perpetrator?" he wondered.

Eden further wrote retaining Mor's sentence meant a "response that's placatory, lenient and free of any aspects of deterrence or punishment."

Mor admitted committing the offenses attributed to him and was convicted as part of a plea bargain with the police's Internal Investigations Department. The Be'er Sheva Magistrates' Court then sentenced him to a four-month suspended sentence for two years, 400 hours of public benefit works and an NIS 10,000 reparation payment to each of the three complainants.

Internal Affairs sought to sentence him to six months of community service, as mentioned above, while Mor's attorney Micha Gabay appealed the punishment's severity.

According to the amended indictment on which Mor was convicted, he had intimate liaisons with junior police officers and had sexually-charged correspondences with his subordinate cops.

The indictment mentioned three incidents of Mor sexually harassing female officers. The argumentation for punishment phase took place this past February, during which the former deputy commissioner said, "I failed in a moment of human weakness. I wholeheartedly apologize for that fact."

Mor's attorneys Micha Gabay and Lior Marx said in response to the definitive sentence: "While we are supposedly happy for the state's appeal being rejected and the Magistrates' Court verdict confirmed, we feel a great sadness at the manner in which Nissim Mor concluded his career of contributing to society and the state. We hope this is the end of this matter."