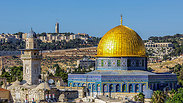 Jerusalem is the 67th most toured city in the world
Photo: Shutterstock
Tel Aviv, J'lem on list of world's 100 most toured cities
Euromonitor International puts together list of 100 most toured world destinations, with Jerusalem coming in 67th, Tel Aviv 78th, both dropping in position; Hong Kong maintains first place but loses ground to second place Bangkok, on pace to overtake it; rounding out top-5 are London, Singapore and Macao.
Jerusalem and Tel Aviv have concluded 2017 ranking 67th and 78th respectively on the "World's top tourist destination" list, with Hong Kong expecting to finish up the year taking the top spot, despite political dissent and tensions between the capitalist city and the central Beijing communist government.

According to the report published by research firm Euromonitor International, Hong Kong will round out the year with 25.7 million tourists, marking a 3.2% drop compared to 2016. It will suffice, however, to continue leading the ranks.

Euromonitor International's listing did not bode quite as well for the two Israeli hotspots despite their top-100 positions, however, as Tel Aviv dropped one place and Jerusalem dropped a whopping five compared to last year.

A city with nothing to worry about is Thailand's capital Bangkok, which retained its second place on the "most visited" list and is right on Hong Kong's tail, concluding the year with 21.3 million visitors, a 9.5% spike compared to the preceding year. If the Thai capital maintains its current rate, it will soon overtake the Chinese city to become the world's most toured destination.

London is the most toured city in Europe and third in the world. By the year's end, 19.8 million tourists will have visited the UK's capital. However, the report projected it will lose its position in the coming years as Asian destinations grow ever more popular.

"Asia Pacific is the standout region driving change in travel," said Wouter Geerts, Senior Travel Analyst at Euromonitor International,

Rounding out the top ten list are (in order) Singapore, Macao, Dubai, Paris, New York, Shenzhen and Kuala Lumpur. According to Euromonitor's estimates, the five most toured cities in 2025 will be Hong Kong, Bangkok, Singapore, Macao and Dubai.

The study also highlighted some surprising trends. The city with the largest increase in the number of visitors, for instance, is Denpasar, capital of the Indonesian province of Bali. Denpasar saw an increase of more than 50% in the number of tourists, while the country's capital, Jakarta, saw an increase of almost 50%. The number of tourists to visit the Indian capital of New Delhi grew by 30%.

The European city with the most impressive growth in tourists is Greece's Heraklion, with an 11% growth in this past year. Other European destinations with impressive growth rates are Greece's capital of Athens in second place with a 10% increase and Artvin in northeastern Turkey in third with a 9% growth rate.