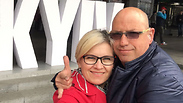 Timoshenko (L) and her Israeli partner
Deaf Ukrainian deported after incoherent questions
Deaf Ukrainian national visiting Israeli partner detained, then deported from Ben Gurion Airport following 'interrogation' she couldn't understand; couple sues Administration of Population and Immigration for not following protocol to document questioning, provide translator, seeking NIS 200,000.
A deaf Ukrainian citizen whose partner lives in Israel sued the Administration of Population and Immigration at the Tel Aviv Magistrates' Court for NIS 200,000, alleging she was deported following an "interrogation" she couldn't understand.

The woman, 45-year-old Larisa Timoshenko, met her partner, 55-year-old Adam Gil—who's also deaf—three years ago on a website used to connect deaf and hearing-impaired people who use sign language.

Larisa came to Israel eight months ago to visit her partner again, in accordance with a visa she intended to receive from the Administration of Population and Immigration, as Ukrainian nationals are exempt from procuring visas prior to their arrival in Israel.

The suit alleges Larisa presented her return plane ticket at passport control and a document from Gil's parents in which they promised she would stay at their home.

However, upon reaching passport control Larisa was directed to an interrogation in which she was questioned on the circumstances of her arrival to Israel. The couple claimed that despite the law saying an interrogation of a person with hearing disabilities who communicates only through sign language be translated to sign language and visually documented, Larisa underwent questioning she could neither hear nor understand.

When the interrogation concluded she was taken to a detention facility and then deported back to the Ukraine.

According to the Timoshenko's statement of claim, Gil was waiting at Ben Gurion Airport's visitors' entrance at the time. When he saw she wasn't coming, he texted his parents, who telephoned Administration of Population and Immigration officials and explained to them her visit was for purely touristic reasons and for a set duration of time, and that their son was waiting for her nearby.

The couple claim in their suit Gil's parents even explained to the Authority's officials Larisa was incapable of understanding anything she was being asked, and suggested their son help with translating the questions to sign language or an external translator be called in.

Despite the parents' exhortations, the Authority refrained from contacting Gil, despite it being accepted protocol with every Israeli host, due to his hearing disabilities. Furthermore, they told his parents, "He cannot be reached via text messages or allowed to enter the interrogation room."

Even during Timoshenko's stay at the detention facility, the couple is claiming in their suit was illegally denied means of contacting an attorney or her partner, a right extended to any person without disabilities, and Gil was forced to return home without understanding what transpired.

The two plaintiffs further maintain that during all of her previous visits to the country, Timoshenko left Israel in accordance with the terms of her visitor's visa, and that the interrogation might have been postponed until a translator arrived or her partner was contacted.

The couple adds that with only reasonable effort the circumstances of her arrival may well have been ascertained and her exit from Israel guaranteed with a personal guarantee or obligation from her Israeli host or his family.

When the couple asked to examine the event and interrogation's documentation, they were given a "visitor questioning report" but not a visual record of the interrogation, despite specific regulations.

In the report, whose author is unknown, it was noted that "It was explained to the passenger her entrance was denied due to fear of overstaying" but it was not mentioned the language used for the questioning or used to explained the questions to Timoshenko, who did not confirm the contents of the report with her signature because it was never presented to her previously.

Furthermore, there was no mention of her disability in the report, nor of any questions she was allegedly asked.

Attorneys Nitzan Harel and Bar Navon of the Harel & Navon Law Office, which represents the couple, said, "The Equality for People with Disabilities Law was enacted in order to allow their equitably integration in society and to prevent discriminating them due to their disabilities. The law further provides restitutions of up to NIS 50,000 without proof of damages for any violation."

"In this instance, one of the country's authorities—expected to serve as an example in this regard—blatantly violated the law while dismissing and disregarding the couple's rights due to their disability, despite the fact they suggested a translator of their own or other worthy alternatives capable of preventing the egregious damage and anguish they went through," the attorney concluded.

The Administration of Population and Immigration commented on the incident, saying, "The facts of the case are currently under review and we will therefore decline further elaboration. Once the details are fully reviewed, our response will be delivered as part of the legal proceedings."