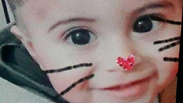 Infant Amir Abu Saaluk was killed when a relative struck him with his car
Bedouin residents protest deficient infrastructure
In wake of another Bedouin infant being killed when struck by relative's car in Negev, region's citizens decry lack of basic infrastructure, secure public spaces in which children can play; 'Children want to breathe air. They want to play, but have nowhere to do it except on roads,' says resident; 10 children died when struck by cars so far this year.
Adam (37) and Ansa (33) Abu Saaluk celebrated the birth of their seventh son mere days ago, but their joy turned to immense grief when another son, 18 month old Amir, died when a relative inadvertently struck him with his car this past Thursday.

"It's an unspeakable disaster, and they're having a hard time coping with it. The family members are still in dire straits psychologically. They celebrated their son's birth only days ago and kept talking about him. They never thought they would be given such devastating news about another child," a relative of the parents said.

The relative added all of his other brothers keep asking about Amir. "He was special. His brothers are asking when he'll return. The pain will linger," he lamented.

Three children were killed in the Negev during the past month alone when they were struck by cars. Near the village of Azazme, a 6-year-old girl was mowed down by her own father who was driving a minibus. Earlier, a driver hit and killed a two-year-old in Kuseife. The driver fled the scene but was later located and brought in for questioning.
'There's nowhere to play, only on the road'
The Negev's residents have been suffering from infrastructural problems and a severe lack of roads for years, as well as a shortage of public spaces for recreation.

Ali Omar, who lives in a village near Nura, said, "We've been abandoned. We have no infrastructure, no roads and the schools are far away. It's especially dangerous for children, who are forced to play on the road. It's one of the things causing the vehicular accidents."

Another resident concurred. "This isn't a life, and we have no one to look after us. It hurts us this is the standard of living we've been forced to live. Children are always asking after public areas, soccer fields, but there's no one to supply them. Their questions are tearing our hearts asunder," she said.

"I can't keep them cooped up inside all the time. They want to breathe air. But they have nowhere to play except on the road," she exclaimed.

Data collected by the "Beterem – Safe Kids Israel" non-profit show that since 2008, 100 children died when they were struck by cars near their home. In 2016, six children died after being struck by cars, and in the current year ten have died in that fashion so far.

The most prominent age group of child casualties on the road is 0-4, making up 87 percent, with 88 percent of cases taking place in the home or the yard. The vast majority of victims—88 percent—are from the Arab sector, and 53 percent are Bedouins.

Beterem CEO Orly Silbinger said incidents involving children being wounded or killed by vehicles are extremely widespread among the Negev's Bedouin populace. "It may be prevented by increasing parents' awareness and taking the following actions: clearly separating children's' play areas and parking areas and looking around the car before driving off—because small children are too short to be noticed otherwise," she advised.

In light of the grim data showing the highest mortality rates for children in accidents in Israel attributed to the Bedouin population, Beterem decided—in collaboration with the Ministry of Agriculture's Authority for Development and Settlement of the Bedouins in the Negev—to spearhead a joint program to promote child safety in nine of the region's local Bedouin communities.