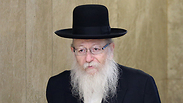 Health Minister Litzman
Photo: Amit Shabi
Parents of children with SMA demand state-sponsored solution
Children afflicted with type 1 SMA at mercy of 'compassion' treatments provided by drug company at own discretion; parents appeal to Litzman to regulate issue and provide state funding for immediate treatments to all children; children with type 2 SMA not included in agreement, will not receive treatment unless state intervenes.
While families of children afflicted with spinal muscular atrophy (SMA) rejoiced at the children finally receiving approval—and state funding—for new drug Spinraza, Minister of Health Yaakov Litzman announced Tuesday only a limited number of children will receive the new treatments, which would prevent their conditions from deteriorating.

Appearing before the Knesset's Finance Committee, Litzman said, "I've stated my commitment to these children since the beginning, and how heart-rending their plight was. Having said that, it was also my stance throughout the years to not interfere with the work of the healthcare basket (a list of government-subsidized medicine and medical treatments) committee. It was obvious a middle-ground had to be found, with immediate care being provided to the children on the one hand, while allowing the committee to conclude its work on the other."

"It was therefore agreed the company manufacturing Spinraza will expand its compassion treatments immediately to all children afflicted with type 1 SMA," Litzman added.

The Finance Committee was quick to issue a press release celebrating the occasion, but in practice only a handful of children will receive the drug, while more than 60 others will be left without treatment.

Ten children have already been receiving the drug as part of so-called compassion treatments, or treatments provided using unregistered drugs to patients suffering grave or life-threatening illnesses.

The treatments are provided directly by drug companies, which do so of their own volition. Nevertheless, the Ministry of Health must still approve any such treatments.

Biogen, the company that manufactures Spinraza, provides compassion treatments to children afflicted with type 1 SMA—the disease's most serious strain—in several countries. Medison, Spinraza's Israeli importer, has been providing the treatment free of charge to ten children in Israel for the past several months.

The company refused to provide treatment, however, to a baby hospitalized in serious condition in Ichilov Hospital at the Tel Aviv Sourasky Medical Center. After a Ynet article on the matter, the company acquiesced to providing treatments to two infants.

People afflicted with type 1 SMA begin showing symptoms of the disease before they're six months old and don't normally make it past the age of two. Patients afflicted with type 2 SMA, however, begin displaying symptoms at 6-12 months and survive until the third decade of their life, albeit with severe motor function difficulties, in some cases rendering them unable to walk.

The world's leading health authorities—the American FDA and European EMA—don't distinguish between the different types of severity of the disease when considering treatment as the drug is considered to be equally efficacious with all types.

"Western countries such as France, Germany, Italy and others have already decided on allocating immediate budgets to treat children with all types of SMA, to avoid further risk to their lives before the coming winter," claim parents, demanding Litzman make a similar decision.

The health minister indeed conceded the solution was merely a stopgap. "I know not all of the children have received succor yet, but I trust the healthcare basket committee to prioritize the matter appropriately," he said.

Parents of children afflicted with SMA retorted, "We cannot fathom why the health minister chose to entrust our children's lives, certainly the ones with the most serious conditions, to the 'compassion' of a drug company. This forces us, their parents, to continue living in fear the condition of our children will deteriorate to the point their life is in danger—as only then may we appeal to the compassion of the drug company."

"Finance Minister Moshe Kahlon gave us his word any decision made by the health minister will receive financial support, and he's awaiting Litzman's request to finance the drug for all 80 children whose lives are in danger. 'Compassion' by a drug company cannot be the solution. The government must resolve this," parents pleaded.

The situation of children with type 2 SMA, meanwhile, is even more precarious as there seems to be no solution for these supposedly more "minor" cases not included in Litzman's agreement with the importing company.

"We want the drug now. The coming winter will put my son Omer's life at risk as well as the lives of other children with SMA. Their lives are in daily peril. The state has to give Omer the chance to lead a better life in the country he loves and wishes to serve," said Eli, the father of 12-and-a-half-year-old Omer Baron, afflicted with type 2 SMA.

Yael, the mother of 11-year-old Yarden, who suffers from the same grade of SMA, said, "Yarden grows weaker every day, and winter is coming. We can see a decrease in his functioning already. He's having a hard time writing and his hands are weakening, despite the fact he's been doing exercises to try and slow down deterioration."

Rima, the mother of five-year-old Lika Weisberg, added, "What about our children? Any day can end with them being hospitalized. Two years ago, Lika was put in intensive care due to a pulmonary infection that rapidly worsened. We have to start her on the treatment as soon as possible because every passing day is dangerous."

Tomer, the father of seven-year-old Eden Twizer, said, "Deterioration can lead to the child needing respiration by way of tracheotomy through the throat, which causes him to lose the ability to speak—the only thing he has left. He could be in pain without being able to say as much. This entire disease is one large process of deterioration. His life is constantly at risk. My daughter coughed in school and couldn't get the phlegm out of her throat. She needed CPR and was taken to a hospital. It all happened in a minute, and we might have lost her."