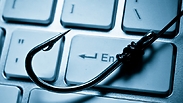 Illustration
Photo: Shutterstock
Palestinian, Israeli Arab indicted for credit card fraud
Two friends, Palestinian and Israeli Arab from Jerusalem, indicted for running credit card fraud, phishing scam duping 1,000 Israelis to enter credit card, personal details into fake Ali Express, Paypal websites; two are accused of using details to make purchases of goods, services in excess of NIS 225,000, attempt to make additional purchases of NIS 100,000.
Palestinian Malak Haja of Dura and Ahmad Abu Zneid of Jerusalem were indicted at the Tel Aviv Magistrates' Court Friday morning for phishing and credit card fraud against one thousand Israeli citizens. The pair are accused of using the Israelis' credit card details to purchase goods and service worth hundreds of thousands of shekels and attempting to make additional purchases for NIS 100,000.

According to the indictment submitted by attorney Ye'ela Harel of the State Attorney's cyber division, Haja, 22, and Abu Zneid, 20, created two websites in 2016 pretending to be widely popular shopping site Ali Express and online payment site Paypal.

The two then allegedly texted or emailed thousands of Israelis with messages purporting to originate from the real sites. The people who received said messages were then asked to click a link the message contained, which redirected them to the pair's fraudulent websites.

The fake website then asked the visitor to enter their personal and credit card details, which the defendants received to their own email addresses.

Haja and Abu Zneid are accused of receiving such replies from at least one thousand people, who unknowingly provided them with details such as their credit card numbers, CVV security codes and other details allowing online transactions to be carried out.

Using the above method of fraud, the pair then purchased goods and services for an amount exceeding NIS 225,000 and attempted to make additional purchases for at least NIS 100,000. The operation was carried out over the course of almost two years.

Haja and Abu Zneid were arrested two weeks ago after an intensive investigation by Lahav 433's national cyber crimes unit. The court remanded them until further notice.

Abu Zneid's attorney Amir Navon said, "The area of cyber carries terms and expressions that are oftentimes opaque to criminal prosecutors. The indictment is an example of precisely that. It's patently obvious even now there's not a shred of evidence to link the defendants to managing such websites or any form of credit card fraud. We'll receive the investigation's materials and go from there."