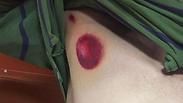 Rubber bullets were fired during the Kafr Qasim riots
Photo: Hilal Badir
Police, residents violently clash in Kafr Qasim
Kafr Qasim family claim cops shot rubber bullets at them, assaulted them after demanding to search for a murder suspect in their home, refused to answer questions; 'They were acting cruelly, scaring women, children,' local says; police claim riots broke out, hundreds of residents lobbed slabs, iron rods at officers, suspect.
Six members of Kafr Qasim family were wounded Thursday during violent clashes with the police, with locals claiming cops demanded to enter their home to search for a suspect, refused to answer any questions and retaliated with violence. Police, on the other hand, claim they were attempting to defend the suspect as they were violently accosted by hundreds of residents.

Police were searching for a suspect in the mid-October murder of Ismail Azbarga in Lod. The suspect, a 31-year-old Lod resident, was arrested in Kafr Qasim and remanded Friday.

One of the members of the family into whose home police demanded entry said, "We were surprised by the police force arriving in our neighborhood. They wanted to search our house for no reason whatsoever. We tried asking them why, but they refused to answer."

The family member added that an argument then broke out and as a result, one of the cops wounded the face of an elderly man.

"The cops had the wrong address and wanted to get into a house that had nothing to do with their search. They used rubber bullets and stun grenade and attacked us," another family member said.

Four members of the family were wounded by rubber bullets. A local medical team arriving to the scene treated them and later removed them to the Beilinson Hospital at the Rabin Medical Center in Petah Tikva.

A family member added, "After a while the cops realized they had made a mistake, and that they were supposed to go next door. It's a very serious thing. The cops were acting cruelly and scared the children and women. The entire town knows us to be respectable people who are never involved in any problems, but the cops' behavior made people think otherwise."
Police: 'Hundreds of rioters lobbed slabs and iron rods'
Police said in response to allegations, "Ismail Azbarga was murdered in Lod this past October. As part of a determined, unyielding investigation a Lod resident suspected of committing the murder was located hiding out in Kafr Qasim. An operational Israel Police force arrived to take him into custody and was met with harsh resistance."

"Hundreds of rioters started lobbing concrete slabs, rocks and iron rods at police officers, thereby endangering both their and the suspect's lives

"Additional police forces were called in to the scene to restore order. The Israel Police will not be daunted and will continue enforcing the law everywhere and serving the country's law-abiding public," police said.