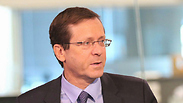 Opposition Chairman Herzog
Photo: Avi Moalem
Trump's Jerusalem declaration splits Israel's left wing
MKs from across Israel's political spectrum respond to President Trump's controversial speech; 'To say capital of Israel is not J'lem is lie, Trump finally took it off the table,' says Coalition Chairman Herzog; recognition is 'immense achievement for Israeli policy, PM,' says Tourism Minister Levin; 'Unilateral moves on controversial issues not constructive,' warns Joint List's Odeh.
President Donald Trump's speech officially recognizing Jerusalem as Israel's capital and vowing to transfer the American Embassy from Tel Aviv to the capital caused a stir in Israel's political system Thursday, with responses ranging from the laudatory to the condemning.

Opposition Chairman MK Yitzhak Herzog (Zionist Union) commented on the speech in a Ynet studio interview, and said he was "pleased to hear Trump's announcement as it renders historical justice after 70 years."

President Trump's speech (צילום: רויטרס)

"We meet hundreds of international leaders every year in Jerusalem, so to come out and say the capital of the country is not Jerusalem is a glaring falsehood," Herzog declared.

"At least Trump finally took that lie off the table. However, I expect him to apply the same courage and conviction to promote separation from the Palestinians and the creation of two states, which he mentioned," the opposition chair said.

"I sincerely hope Trump will bring forward a courageous, trailblazing path to peace. Now, 100 years since the Balfour declaration, 70 years since (the Partition Plan vote) and 40 years since (Egyptian President Anwar) Sadat's visit to Jerusalem, we have no choice but to boldly move in the direction of a brave, trailblazing move to try and resolve the conflict, even gradually," Herzog suggested.

Tourism Minister Yariv Levin also commented on Trump's speech. "It's an immense achievement for Israeli policy and an immense achievement for the prime minister. It's truly a historic occasion, and I think it is proof positive of the fact that when we stand our ground, we're able to convince the world. Recognizing Jerusalem as Israel's capital puts an end to controversy surrounding the city since the country's founding. It also opens the door to recognition by other countries, and I'm convinced the US will not be the last," Levin vowed.

"Trump's speech also had one other important point: saying the two-state solution will come about only if both sides agree to it. That is to say, so long as Israel is uninterested in it, it won't be happened," the tourism minister elucidated.

Deputy Minister in the Prime Minister's Office Michael Oren (Kulanu) spoke about Trump's speech, saying, "It's a very moving moment for me, one we've been awaiting not for 70 years but 2,000 years. We have a capital recognized by the world's largest superpower. I was taken aback by the force of resistance, even rage expressed in media, citing doomsday scenarios and the end of the peace process or detonating the Middle East. Everyone needs to calm down."

Director of the Political-Military Affairs Bureau at the Defense Ministry Amos Gilad disagreed, saying, "What bothers me is that the entire peace process will now focus on Jerusalem. I don't see countries coming aboard (in recognizing Jerusalem as capital) and that bothers me. I think it means the chances of the peace process moving forward have decreased, unless the president puts forward an especially innovative offer."

Deputy Minister Oren, who served as Israel's ambassador to the US, opposed Gilad's view. "I think the process will face three major obstacles, one of which is Jerusalem with the other two being settlements and the two-state issue. Previous administrations, such as (President Barack) Obama's, preordained the two-state solution as resolution for the conflict. Settlements and Jerusalem were then moves to the forefront of negotiations. What Trump has succeeded in doing over the past few months is take all three obstacles down," Oren explained.




Joint List Chairman MK Ayman Odeh voiced his displeasure with the president's speech. "I'm speaking about against the announcement because I believe in the two-state solution. I consider it the true interest of both Israelis and Palestinians and think any unilateral move on a controversial issue helps nothing. I would have been happier if Trump had said, 'I recognize west Jerusalem as Israel's capital and east Jerusalem as Palestine's capital,'" Odeh lamented.

"If Trump wants to deal fairly, he should start with something that will bring about the end of the occupation rather than deepening it. The Palestinian people exist, and they're not going anywhere. Are they going to give Jerusalem's Palestinians citizenships now? Is Jerusalem going to have a Palestinian mayor? Should there be just one state with an Arab majority? I, of course, have no problems with that. The state and its citizens should decide themselves. The only realistic solution good for both sides is two countries living side by side," Odeh concluded.