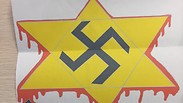 The hate letter
Photo: B'nai Brith Canada
Canada's Police Department launched an investigation this week after 12 synagogues across the country received hate letters.
So far, synagogues in Toronto, Montreal, Hamilton, Kensington, Calgary, Ottawa and Edmonton have all received the same anti-Semitic letter with the phrase "Jewry Must Perish" written around an image of a swastika inside a bleeding Star of David.
"It's a particularly ugly piece of hate mail that is threatening," Judy Shapiro, associate executive director of the Calgary Jewish Federation, told CBC News.
"I tend to not take these things terribly seriously because they're designed to create intimidation. They're not necessarily a real threat, and when I say a real threat, I mean a threat to life, but they are certainly designed to intimidate and they're designed to make people feel uncomfortable and they succeed in doing that, which is unfortunate," she added.
The Calgary Police Department traced the letter to southern Alberta based on its postmark. They are working with police in other cities in an effort to identify where the others letters were sent from.
Canadian Prime Minister Justin Trudeau said in response to the letters, "These recent acts of hatred and anti-Semitism have no place in our country and we will not tolerate it."
Alberta Premier Rachel Notley also denounced the letters, saying "Anti-Semitism has no place in Alberta or Canada. As Jewish families gather to share in the love and hope of Hanukkah, they deserve to do so in peace and security."
According to B'nai Brith Canada, there were 1,728 anti-Semitic incidents in the country in 2016, a 26 percent increase compared to 2015.
Ynetnews contributed to this story.