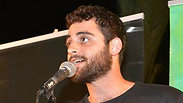 The State Attorney is set to soon decide whether to reopen the investigation of Dean Issacharoff, a spokesman for the left-wing whistleblowing group "Breaking the Silence" whose case was closed last month after a judge ruled that his claims that he assaulted a Palestinian during his IDF service lacked evidence.

The development comes in the wake of the announcement by the Judea and Samaria District Police that they would investigate Faisal Natsheh, the Palestinian who claims he was present at the incident together with Dean Issacharoff, and was beaten.

During an interview with Channel 2, Natsheh claimed he was beaten by soldiers who were leading him away. He also added that he is unable to definitively identify Issacharoff as the soldier who beat him since he does not recall the specifics of who was present due to the significant amount of time that has elapsed since the incident occurred in March 2014. He claims he was hit by ten soldiers.

The Justice Ministry released a statement saying: "Regarding the announcement concerning Dean Issacharoff, we wish to point out that, as we have stated in the past, any relevant information that is transferred to the investigating authorities that raises suspicion of an alleged offense justifies the possibility of reopening the investigation. That same rule will apply in the present case as well."

In a statement released by Breaking the Silence, any reopening of the case would effectively constitute a mea culpa on the State Prosecutors Office on its original ruling.

"By reopening the file, the State Prosecutor's Office is effectively revoking its previous finding that Dean lied—an important, just and commendable step," the statement said.

"This time, in contrast to the previous investigation, which was conducted with carelessness and dishonesty, the prosecution is expected to act with legal professionalism and integrity and to serve the law and justice, and not unrelated political interests."