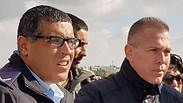 Public Security Minister Gilad Erdan's change in strategy for curtailing terror activities afflicting Jerusalem is showing its mark, with statistics showing drastically increased police activity in Arab villages in the capital's vicinity.

"Our policy is clear; we are moving from a defensive strategy to an offensive one," Erdan said during an inspection of security arrangements in the Arab villages.

Many of the recent terror attacks in Jerusalem have been perpetrated by residents from Arab towns just outside the city. Twenty five stabbing attacks, 11 vehicular attacks and four shootings during the last year and a half.

During those attacks, 18 terrorists were killed and seven neutralized; Shuafat refugee camp has seen the most arrests related to the above incidents.

According to data received by Ynet, during 2016, the police have tried to minimize their incursions in to Arab towns near Jerusalem such as Qalandia, al-Azariya, Kafr 'Aqab and Biddu. However, beginning in September 2016, when the area was partitioned into its own independent police district, policing strategies changed and have become more aggressive.

As part of the new strategy, Border Police units initiated more anti-terror and anti-crime activities in the Jerusalem vicinity. For the sake of comparison, during 2016, dozens of wanted suspects were arrested in the vicinity of the capital. This year there have been 235 arrests as security patrols have increased tenfold.

Since the start of the new strategy, 227 explosive devices were seized and 30 hostile incidents were averted at an early stage, before the attacker could reach the city.

Over the past year, security forces have made 198 incursions into the Shuafat refugee camp and arrested 162 wanted suspects.

At the Knesset's Foreign Affairs and Defense Committee on Monday, Shin Bet chief Nadav Argaman said that the agency foiled 400 attacks this year, including 13 suicide attacks and eight kidnappings.

Minister Erdan, district police chief, Commander Yitzhak Brik and district Border Police chief, Assistant Commissioner Uzi Levy, toured the Jerusalem vicinity district on Monday and took note of the changes. "During the last year, Border Police entered towns that they previously would not have, every day," said Erdan.

"There is no immunity from arrest. Our current policy, together with the increase in arrests, has brought about a drop in terror attacks and violence. Our sovereignty begins in Jerusalem and I will continue to strengthen the police in every way possible," he continued.

During the inspection tour, stones were thrown at the minister's car from over the security fence near Abu Dis. The vehicle suffered minor damage and security forces dispersed the rioters.