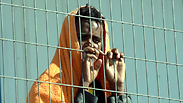 File photo
Photo: Haim Horenstein
Government to approve NIS 200 million to combat infiltration
Population and Immigration Authority gets additional funds, 180 new jobs as part of large-scale campaign to remove 42,000 illegal African migrants from Israel; African nationals to voluntarily leave will receive $3,500 to start a new life elsewhere; others deported will receive smaller sum.
The government is expected to approve Sunday the allocation of NIS 200 million a year on top of 180 new jobs for the Population and Immigration Authority as part of a large-scale campaign to remove 42,000 illegal African migrants from Israel.

According to the proposal by Prime Minister Benjamin Netanyahu, Interior Minister Aryeh Deri and Finance Minister Moshe Kahlon, the Israeli government will offer each African national $3,500 to start a new life elsewhere.

Meanwhile, the additional manpower will be employed in checking existing asylum requests submitted by Sudanese and Eritrean nationals, increasing enforcement against employers hiring infiltrators, and organizing the voluntary departure and subsequent deportation of infiltrators to a third country.

According to the proposal, over a period of more than a decade, more than 60,000 people have been caught after having entered Israel illegally. At present, there are some 40,000 Eritrean and Sudanese nationals staying illegally in Israel.

The large number of infiltrators and their concentration in city centers, particularly Tel Aviv, has had various negative consequences, the proposal notes, including the damage caused to the fabric of life in Israeli society, the undermining of citizens' personal security, an increase in crime, and the significant damage caused to the job market.

In recent years, the Israeli government has taken a series of significant steps to combat infiltration, including taxing employers who hire infiltrators and transferring infiltrators to the Holot detention facility in the Negev.

In tandem, the government has been advancing a plan to deport the infiltrators to third countries, notably Rwanda, with which Israel signed agreements.

Earlier this month, the Knesset passed in second and third reading the Prevention of Infiltration Law, according to which the Holot facility will be closed in March 2018 after the implementation of the plan to remove infiltrators from Israel.

To encourage voluntary departure, those who refuse to leave voluntarily will receive a lower sum of money.

"I have promised the residents of south Tel Aviv and other low-income neighborhoods across the country that I would take any measure to remove the infiltrators, and I am now keeping my promise," Interior Minister Aryeh Deri told Ynet. "I'm glad for the cooperation of the prime minister and finance minister, and together I hope that soon the residents of these neighborhoods could see the longed-for change, because the poor of your city take precedence.