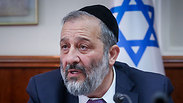 Deri. A shrewd and seasoned politician
Photo: AFP
Interior Minister Aryeh Deri and Knesset Member Yehuda Glick are possibly the most polar opposite individuals in contemporary Israeli politics. Deri is a shrewd and seasoned politician as a way of life. Glick reached the Knesset by chance and, unlike Deri, he realizes he might not return after the next elections.

Glick wants to do the best he can until he returns to his previous life. Deri, on the other hand, has no other life. He has been in politics since the age of 24 (with a break of a few years after being convicted of bribery, fraud and breach of trust and serving his prison sentence) and knows nothing else.

And that may be the root of it all. Politics is the goal. Nothing else. No one in the political system, including the interior minister himself, thinks the supermarket law will change the nature of Shabbat in the State of Israel's public domain in any way. But what can Deri do, after being rebuked by the High Court for not being decisive enough when it comes to municipalities' Shabbat bylaws, and after seeing Yakov Litzman—his Ashkenazi Haredi partner in the government—quit over train work carried out on Shabbat, and in light of the fact that despite his promises, soccer games on Shabbat are thriving?

What can a born politician do, having to convey a message to his public—and especially to the Haredi media—that he is the Shabbat knight in spite of it all? He can invent a law which won't lead to the closure of a single store that is open on Shabbat today. Shabbat observers will keep observing, those who desecrate Shabbat through illegal commerce will keep doing it, and nothing will change, as long as Deri can say that he cherishes Shabbat. He's a politician, after all.

And then comes the incredible clash of civilizations between him and Glick, the Santa Claus of Israel's Knesset, or the Prophet Elijah if you wish. The man who begins every speech with the same sentence: "Blessings to all my sweet friends from the coalition and from the opposition." He decided to devote the one conference that every MK is entitled to hold at the Knesset every session to "seeing good things" and invited social activists from all over the country. And about two weeks ago, he nearly created a major crisis when he refused to vote with the coalition until he received a promise for a law banning the advertising of cigarettes.

Deri, on the other hand, the man who needs an onion to create crocodile tears in memory of his mentor, is a politician in every sense of the word. This is exactly why he is capable of thinking that pulling a man from his wife's shiva so he could vote at the Knesset is perfectly normal, why he is capable of turning to a rabbi who he and his people normally despise so he can get what he wants, why he is capable of contacting the head of the regional council Glick lives in to help him reach that rabbi. And as we know, a council head who is approached by the interior minister doesn't usually laugh in his face.

And Glick, oh Glick, is such an anti-politician that there's no doubt in the world that immediately after returning from his days of mourning, he will meet Deri the politician at the Knesset, shake his hand warmly, even give him a hug, and say: "It's all right, Aryeh." Such an anti-politician.