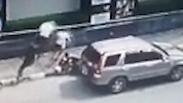 Israeli criminal Maor Malul was assassinated on Sunday on the island of Ko Samui in Thailand, with his attackers running him over with a jeep and then stabbing him multiple times.

Hours later, Thai police arrested two Israelis, Eyal Bokel—brother of Baruch Bokel, who heads a crime syndicate in Netanya—and Dolev Zuarez.

Surveillance cameras at the scene captured the incident as it happened on a busy road near the popular Chaweng Beach.

Video of the incident in which Malul was killed

A Honda CVG can be seen hitting the scooter which Malul and his wife Racheli were riding. Malul immediately got up to help his wife but had to flee as the jeep reversed.

He was hit again, and then a man dressed in black exited the jeep and stabbed him multiple times before climbing back into the vehicle and fleeing the scene.

Thai media reported that the two suspects abandoned their vehicle 3 km from the scene, near Bophut Beach on the northern part of the island, and fled into a wooded area.

An arrest warrant was issued for Bokel and Zuarez, who had meanwhile managed to take a motor boat from Ko Samui to Surat Thani, where they took a Thai Airways flight to Don Mueang International Airport in Bangkok. There they were were arrested by Thai immigration police at around 10:30pm.

Malul was taken to "Bangkok Hospital" in Ko Samui, where he succumbed to his wounds. His wife suffered light injuries when she fell off the motor bike and was treated at the hospital.

The Israeli consul in Bangkok, Itai Mizrachi, and the Foreign Ministry's department for Israelis abroad are assisting the families.

In August, 2015, Malul and an accomplice, Ron Shevach, attempted to assassinate Baruch Bokel, a Netanya criminal.

According to an indictment filed against them, Malul and Shevach ambushed Bokel as he headed home on his motorbike. Malul, who was driving a Toyota, accelerated and hit Bokel. Shevach, who was in the back seat, got out of the car with a loaded gun and wearing a mask.

Shevach and Bokel fought over control of the gun, which went off, with a bullet hitting Bokel in his left thigh. Still, Bokel managed to wrestle the gun away and remove Shevach's mask.

Bokel also fired a shot at the road "to make sure the gun worked" in case the two attacked him again, before being taken to the hospital in serious condition.

A few months before that assassination attempt, Avi Malul, the brother of Maor, was shot and killed in Kfar Yona. Bokel's brother was also targeted by an explosive device, which seriously injured him. His Netanya business was also a target of arson.

In a plea bargain, Malul was convicted of assisting in aggravated battery and sentenced to only 20 months in prison. The case was lacking in critical evidence and the prosecutor was concerned the police's methods would be exposed during the trial.