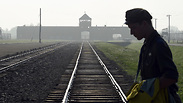 Education Minister Naftali Bennett said this week that Israeli high school trips to Holocaust sites in Poland will go on despite a new controversial Polish law imposing jail terms for suggesting the country was complicit in the Holocaust.

"Many people asked me to cancel the Poland trips in light of the law," Bennett told educators at an event Tuesday, "but after considering the matter, I decided that they will continue as usual."

He explained that the trips to Poland are "an act of first-class education for our children and for Holocaust education."

He went on to decry the Polish legislation for its attempt to change history.

Polish President Andrzej Duda said earlier this week that he stands by the legislation, but left room for amendments. The law imposes a fine or up to three years incarceration for someone using the term "Polish death camps," or one who publicly attributes—contrary to the facts—responsibility for Nazi atrocities to the Polish people or state.

Defending the law, Duda said it would not prohibit Holocaust survivors and witnesses from talking about crimes committed by individual Poles.

"We do not deny that there were cases of huge wickedness," he said in a speech.

But he said the point of the law is to prevent the Polish nation as a whole from being wrongly accused of institutionalized participation in the Holocaust. He recalled that the Polish government at the time had to go into exile and Polish officials were those who struggled to inform the world that the Germans were putting Jews to death on Polish soil.

"No, there was no systemic way in which Poles took part in it," Duda said. The president added it would be difficult to enforce the law.