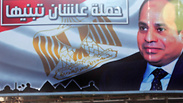 Egyptian president
Photo: AP
It seems that ever since US President Donald Trump's controversial recognition of Jerusalem as Israel's capital, Israeli tourists trying to get travel visas to Egypt are being turned down by the Egyptian consular services in Tel Aviv.

This comes at a time that an increasing number of Israelis are expressing interest in visiting Egypt, and despite the fact that Egypt recently started encouraging tourism in full force.

The Foreign Ministry brought the matter up with the Egyptian Embassy and asked for clarification but received a vague response.

The belief is that Egypt is uncomfortable with having groups of Israelis travelling around the country at this time.

Officials have expressed hope that the Egyptian policy will soon change their stance and are working the relevant channels to convince them to indeed do so.