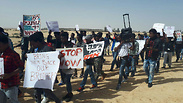 About 1,000 asylum seekers and activists from the Stop the Expulsion movement protested Thursday near the Holot detention center in the Negev Desert. They then held a protest march from Holot to the nearby Saharonim Prison after seven of their fellows were taken from the center and imprisoned due to their refusal to leave Israel.

"The Israeli government made things difficult," said 27-year-old Mular Gabrihiyaut, who came to Israel seven years ago from Eritrea and is one of those being transferred to the prison. "The government gave me 30 days to decide whether to leave the country. We are calling out for help. We are asylum seekers, protesting for our rights, we are human beings."

He added: "The government is just throwing us into the desert, maybe because of our skin color. They want to send us to our deaths. My best friend left to Rwanda and did not receive a thing there. He set out for Europe and unfortunately we lost him in the Sahara Desert. He is dead, and I am choosing prison."

Theadorus Mubasah, 29, who came here six years ago, said: "This really hurts. We are here (at Holot) for a year and they tell us to go to Rwanda or Uganda. Over there, nobody cares for you, you are not given any status, you are not a citizen, I do not know those countries and their language.

"I prefer to stay here," he declared. "The government treats us this way because of our skin color. It is a fact that asylum seekers from other countries are staying, because we are black they hate us."

The seven asylum seekers are the first to be jailed since the government announced the intended expulsion plan which included the closing of the Holot detention center at the end of March.

The seven Eritreans were the first to receive letters, about a month ago, informing them that they must leave to Rwanda or be imprisoned for an indefinite amount of time, as per the government decision.

The seven were summoned for a hearing earlier this week and at its conclusion were immediately taken to Saharonim Prison. In protest, the 700 migrants being held at the detention center launched a hunger strike.

Tsafazgi Asgudum, 33, is one of the strikers who came to Israel six years ago. "A few months ago they decided to expel some of our brethren. They notified them of the choice: Leave or be imprisoned. They chose prison. They were sent to prison without a chance to collect their things and were separated from their friends and locked in a small facility. As a result, we are on a hunger strike and we will march to free them. They should at least treat refugees humanely, morally," he said.