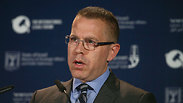 Public Security Minister Erdan
Photo: Ohad Zwigenberg
Public Security Minister Gilad Erdan (Likud) expressed unease Wednesday over the leniency of the state's witness deal signed by Prime Minister Benjamin Netanyahu's former media advisor, Nir Hefetz, according to which Hefetz won't serve time in prison and won't be required to pay a fine.

"When a state's witness goes unpunished, it creates a feeling of unease," Erdan told Ynet, stressing "it must be remembered that he is a criminal who confessed he broke the law and committed grave acts."


The minister though called to refrain from jumping the gun and accusing the police and Attorney General Avichai Mandelblit of disproportionate leniency towards Hefetz due to what Netanyahu and his associates call an overenthusiastic zeal to find incriminating evidence against the premier.

"Only when we know what is in the testimony and what its importance for the investigation was, can we express an opinion on the attorney general's decision to approve one state's witness agreement or another," he noted.

"Today, no one has enough information to understand the considerations of the attorney general, the prosecution and the police, which led them to decide to sign the agreement."

Erdan made the statements hours before Ynet revealed that Hefetz, as part of his state's witness agreement, gave the police incriminating testimony against four members of the Likud party, two of which are incumbent ministers.

Hefetz claimed that the work he conducted with those senior officials, as part of a larger framework of projects at the Ministries of Health and Environmental Protection, was carried out with a substantive conflict of interests, abuse of authority and nepotism.

The issues relate to real estate, regulation in the health system and a volatile issue concerning environmental protection, which is still at the center of the public agenda.

Investigators are now compiling and examining the entirety of Hefetz's testimony on the matter before handing it over to Attorney General Mandelblit, who will then decide whether a criminal investigation should be opened against the officials.