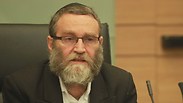 MK Moshe Gafni
Photo: Finace Committee
Finance Committee approves 2019 budget for second, third readings
Knesset to start discussions on state budget ahead of expected approval by the end of the week; budget stands at NIS 497.6 billion; committee chairman MK Gafni says he refuses to sign commitment not to ask for additional funding: 'I told them I was here to change the budget.'
The 2019 state budget will go up for discussions at the Knesset on Tuesday after the Finance Committee approved it for a second and third reading on Monday, paving the way for its final approval by the end of the week.

The budget, which stands at NIS 497.6 billion ($144.39 billion), includes the biggest allocations to defense (some NIS 73 billion), education (some NIS 64 billion) and health (some NIS 42 billion).

The committee approved the budget Monday after a long day of discussions, during which it skipped all of the opposition's reservations—leaving them instead for the Knesset plenum to vote on.

Some changes were made to the budget during the discussions, with millions of shekels being added in accordance with the commitments the government made in coalition agreements.

Committee chairman MK Moshe Gafni (United Torah Judaism) noted one of these additional budget allocations of NIS 50 million to yeshivot was actually compensation after this sum was cut from yeshivot's budget for 2018.

"In general, no major changes were made," Gafni said, adding he was the only one who refused to sign a commitment not to demand additional funding. "I told them I was here to change the budget, because I didn't want to be party to the creation of non-economic problems, such as the rumor that because of the Haredim, there would be no funds for the disabled people, and they won't get what they were promised."

Zionist Union MK Stav Shaffir demanded the committee not to vote on the budget before discussing the reservations she submitted, which focused mostly on social issues the budget fails to address. Unlike other reservations that he rejected out of hand, Gafni agreed to discuss Shaffir's reservations "so we won't be blamed for going to early elections."

The committee voted on the budget without first discussing it in depth. The majority is guaranteed for the coalition in the committee's current makeup, and so the voting on each of the ministries' budget went quickly.