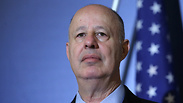 Regional Cooperation Minister Hanegbi
Photo: Alex Kolomoisky
Minister for Regional Cooperation Tzachi Hanegbi, who has coordinated with the Gulf Arab state of Qatar on aid to the Palestinians, credited it on Friday with trying to prevent the funds reaching Hamas, but accused it of still "flirting" with the Islamic militant group.

Under embargo by four US-allied Arab powers, Qatar has publicized its low-key contacts with Israel in an apparent bid to find favor with Washington and weaken US President Donald Trump's apparent sympathy for the boycott. The Qataris have also courted several American Jewish leaders deemed close to Israel.

Qatar says Israel's blessing for the some $800 million in civilian relief funds it has funneled to the war-ravaged Gaza Strip counters suspicions it backs Hamas, which has de facto control of the enclave but is shunned by Israel and the West.

"If we are helping Hamas, do you think the Israelis (would) allow us to go inside and come out?" Qatari envoy Mohammed al-Emadi told Reuters during a Feb. 22 visit to Jerusalem, where he said he had met Israel's regional cooperation minister.

Confirming that meeting on Friday, Hanegbi described it as part of a bid "to expand our diplomatic horizon with Middle East states that, for practical and formal reasons, cannot have above-the-radar relations" with Israel.

The Qataris, he told Tel Aviv radio station 102 FM, "are endeavoring hugely to ensure their aid does not end up as any Hamas force build-up".

"We know this, we supervise this and we approve this, because they really are doing construction—the construction of neighborhoods."

Asked whether Qatar might be using its contacts with Israel for "public relations", Hanegbi said: "They are in distress, as most of the countries in the Arab world boycott them because they flirt too much with terrorism, with Hamas, with all kinds of episodes that border on subversion."
Diplomatic outreach
He did not elaborate on the allegations.

Saudi Arabia, the United Arab Emirates, Bahrain and Egypt cut diplomatic and commercial ties with Qatar in June, with vocal backing from Trump, accusing it of supporting militant groups such as Hamas, meddling in their internal affairs and backing the agenda of Shi'ite Iran, Saudi Arabia's main rival for influence across the Middle East.

Qatar denies the charges and says its diplomatic outreach in Washington aims to set the record straight.

Israeli Prime Minister Benjamin Netanyahu last month chided American Jewish leaders who made private trips to Qatar in the name of advancing Israel's interests, such as a return of the bodies of two soldiers who were declared killed in a 2014 war in Gaza.

He encouraged US Jewish engagement with Gulf states such as the United Arab Emirates, in which Israel sees partners against Iran and Hamas, but added: "I'm definitely not talking about Qatar."

Netanyahu delivered his speech at a Jerusalem conference as Emadi held meetings with Israeli officials at a nearby hotel.

Hanegbi said he was surprised that the Qatari envoy had disclosed their talks: "Usually there is an agreement that a meeting of this kind remains secret. But they (the Qataris) decided (to publicize it) and that's their prerogative."

Like other Gulf Arab states, Qatar does not have full relations with Israel. Envoys from both - as well as from the Arab countries boycotting Qatar - attended a conference hosted by the White House this week on Gaza's economic plight.

Trump's Middle East envoy, Jason Greenblatt, who has previously promoted Israeli-Qatari cooperation on Gaza, tweeted to the conference's participants: "Thank you for putting all tensions aside to work w/ us."

On Jan. 15, in remarks that suggested a warming of ties between the two countries, Trump thanked Qatari Emir Sheikh Tamim bin Hamad al-Thani for "action to counter terrorism and extremism in all forms" and called for Gulf Arab unity.

Qatar has said Hamas is regarded by Arabs as a Palestinian resistance movement fighting against Israeli occupation, but it denies providing any financial support to the Islamist group and says all its aid goes to help the Palestinian people.

Many Western countries classify Hamas as a terrorist group over its failure to renounce violence, recognize Israel's right to exist and accept existing interim Israeli-Palestinian peace agreements.