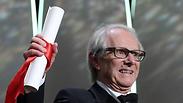 Ken Loach: 'Israel is illegal occupying Palestinian lands'
Photo: AP
British movie director Ken Loach accused Belgium's prime minister on Thursday of overlooking the "flagrant breaches of international law" by Israel as a response to the prime minister's criticism of awarding Loach with the honorary doctorate in light of his alleged anti-Semitic views.
Speaking after being awarded an honorary doctorate at one of Belgium's leading universities, Loach said he was shocked that Premier Charles Michel had chosen to criticize the institution for giving him the award.
"Now, he's a lawyer, Mr. Michel ... Did he I wonder, ask about the breaches of international law committed by Israel? Did he ask about the illegal occupation of Palestinian lands?" said Loach, the 81-year-old director of 2016 Palme d'Or winner "I, Daniel Blake".
Michel, 42, studied law at the Free University of Brussels and chided it on Wednesday for plans to award Loach an honorary doctorate. Loach denies accusations that his support for Palestinians is anti-Semitic.
In a speech on Wednesday at Brussels' Grand Synagogue to mark the 70th anniversary of Israel's foundation, Michel said: "No accommodation with anti-Semitism can be tolerated, whatever its form. And that also goes for my own alma mater."
In a statement on Thursday, the European Jewish Congress called on the university to revoke its decision to honor Loach, saying he had "constantly undermined efforts to combat anti-Semitism in the UK".
The dispute in Belgium comes as the British Labour Party under left-winger Jeremy Corbyn, for whom Loach has been a vocal supporter, is battling allegations of anti-Semitism.