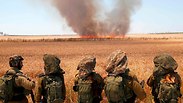 Nahal Oz kite fire
Photo: AFP
Drone captures footage of fire caused by Gaza incendiary kites
'Kite terror' continues against farmers in Gaza border communities; drone footage shows 100 dunam wheat field fire near Sa'ad kibbutz; farmer: 'They burned crops that we've been waiting for since November, it could easily have landed in a school.'
As violent protests raged on at multiple points along the Israel-Gaza border, Palestinians continued sending incendiary kites towards Israeli fields causing consternation among farmers. By Monday afternoon, at least three fields were torched in the Gaza region.

A drone took video footage of one fire in the vicinity of the Sa'ad kibbutz, which burned through some 100 dunam of crops. Another two conflagrations blazed on into the evening near Nahal Oz and in the Kisufim woodlands in the Eshkol Regional Council area. Firefighters were rushed to the scene.

Kibbutz Saad fire drone footage (צילום: חיים לנדסמן)

"The people on the ground said they did not see the kites or the balloons, even though we received a warning that they would be launched this morning. Suddenly the field was on fire and we all ran over there, followed by the firefighters who put out the fire," said Haim Landsman, 46, a farmer at the Sa'ad kibbutz.

Landesman added that for a long time now, life in the area around the Gaza Strip has been difficult, and said that he, like all the residents of the kibbutz, hoped that life will return to normal soon. As a farmer, he bemoaned the burnt field: "It's very painful because these are crops we've been waiting for since November and we were only a few weeks before the harvest."

"As far as they are concerned, they found a good target. Something needs to be done about the fire kites. This time they fell in a field but next time it can easily land in a school and then the tragedy would be greater," he said.

Palestinians in Gaza have been engaging in what has been dubbed "kite terrorism," and it has become especially widespread in recent weeks, especially in light of the sweltering weather in the region.

At first, Palestinians simply set fire to part of the kite, but in time they grew bolder and began affixing Molotov cocktails to the kites, and later began to make use of balloons as well.

The kites have caused many fires in fields and woodlands in the area adjacent to the Gaza Strip. Farmers and firefighters have remained on high alert and they are being joined by volunteer spotters who try to down the kites before they can do damage.

Last Friday, right-wing activist Ran Karmi Buzaglo tried to launch a burning kite into Gaza, but instead caused a fire on Israeli territory. The fire, which broke out in the Sdot Negev Regional Council, was extinguished.

Buzaglo, who is known for his struggle for the release of Elor Azaria, was arrested along with two other suspects, also right-wing activists, but they were released shortly thereafter.