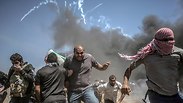 The Gaza border protests
Photo: EPA
UNHRC: Israel 'ignores international law again and again'
Threat posed by Palestinians in Gaza protests not sufficient grounds for use of live fire, says Human Rights Council spokesman on backdrop of some 60 Gazans killed; Turkish PM calls on Islamic countries to review their relations with Israel; senior Israeli official: 'Erdoğan, SA government biggest friends Hamas has.'
The United Nations Human Rights Council denounced Tuesday Israel's actions during protests along the Gaza border the previous day, which left 60 Palestinian protesters dead and more than 2,000 wounded.

A statement on its official Twitter account said, "The rules on the use of force under international law have been repeated many times but appear to be ignored again and again.

"It seems anyone is liable to be shot dead or injured: women, children, press, first responders, bystanders and at almost any point up to 700m from the fence."

Earlier in the day, the Council said the threat of Palestinians approaching the Gaza fence was not sufficient grounds for the use of live ammunition by Israeli security forces.

The human rights body concluded by saying it was "extremely worried about what may happen today—an emotional day on all sides—and in the weeks ahead. We urge maximum restraint. Enough is enough."

A senior Israeli official, meanwhile, dismissed decisions by Turkey and South Africa to recall their ambassadors following the Gaza Strip riots, and said, "There's no reason for amazement. (Turkish President) Erdoğan and heads of the African National Congress are Hamas's best friends in the world today."

Recep Tayyip Erdoğan called Israel a "terror state" during a speech he gave in London Monday evening, adding that "the assault on the Gaza protesters exposed Israel's ugly visage, as one who carries out genocide in Gaza."

Following the day's incidents, Turkey also called for an emergency meeting of the Organization of Islamic Cooperation, which Turkey currently chairs.

Ankara wants the meeting of the 57-member-state body to be held on Friday, government spokesman Bekir Bozdag said.

Turkish President Erdoğan also spoke about US President Donald Trump's decision to move the US Embassy from Tel Aviv to Jerusalem.

"The US has chosen to be a part of the problem, not the solution, and has lost its role as mediator in the Middle-East peace process. We can't help but feelings as if we're back in the dark times preceding World War Two," Erdoğan opined.

Turkey's ambassador to the United States was also recalled along with his Israeli counterpart.

On the backdrop of his president's scathing attack, Turkish Prime Minister Binali Yildirim said on Tuesday Muslim countries should review their ties with Israel.

Turkey's decision to recall its ambassador was preceded by a similar decision from South Africa to recall Ambassador Sisa Ngombane from Israel for consultations.

South Africa also harshly condemned Israel for its actions, with the South African Department of International Relations and Cooperation said that the Gazan casualties were "taking part in a peaceful protest against the provocative inauguration of the US Embassy in Jerusalem."

The statement further called on Israel to "withdraw from the Gaza Strip and bring to an end the violent and destructive incursions into Palestinian territories", adding that the violence in the strip may scuttle the rebuilding of Palestinian institutions and infrastructures alike.

More on the diplomatic front, Ireland's Minister of Foreign Affairs Simon Coveney summoned Israel's Ambassador to Dublin Zeev Boker to a talk Tuesday in which he expressed his protest at the killing of multiple civilians in riots along the Gaza border.

The Israeli Ministry of Foreign Affairs confirmed the report. Coveney also called on Israel to exercise restraint.

New Zealand, for its part, also voiced support for the Palestinian demand for an impartial international probe by the United Nations to examine Monday's incidents.
'Relations with Turkey have not changed, remain poor'
Dr. Alon Liel, who previously served as Israel's ambassador to both Turkey and South Africa, commented Tuesday on the two countries' strained relationship with Israel in light of the Gaza protests.

Regarding Erdoğan, Liel said in the Ynet studio interview that, "Over the past two and a half years, since our supposed reconciliation, Turkey and Israel have remained mutually hostile. Relations have not recuperated and yesterday's incidents bring things to a new low."

On the decision to recall its ambassador to Ankara, Dr. Liel said that, "In the weeks since the US announced the embassy move, Erdoğan's attacks targeted both Washington and Jerusalem in the same proportion and with the same vigor, which is why he recalled both ambassadors."

"Looking at Israel and Turkey, however," he continued, "relations are so poor on the political echelons that our ambassador there and theirs here were exceedingly isolated, almost boycotted. I therefore don't see much of a change in our relations, despite the act of recalling ambassadors that has caused international furor."

The former diplomat further said that the Turkish president was a month before nationwide elections. "He's a very sophisticated politician and I doubt he would have taken this measure if it was not popular," he opined.

"We've seen a mass protest in Istanbul yesterday following the Gaza deaths. I don't know if another such protest took place anywhere in the world, certainly not in the West Bank, so I presume it lines up with his what his 'base' believes," Liel said.

Regarding the South Africa decision to recall its own ambassador, Liel said that bilateral relations have also been poor in the past few years, to the point that "several months ago a severe water shortage was created in Cape Town, and when Israel offered help it was told, 'We don't want any from you.'"

"The ruling party there (the African National Congress—ed) is an avowed supporter of (the Boycott, Divestment and Sanctions movement), and has already made a decision to downgrade relations with Israel. It just hasn't had a chance to follow through on it yet," he claimed.

The Associated Press, Reuters, Matan Tzuri, Itamar Eichner, Attila Somfalvi and Alexandra Lukash contributed to this repot.