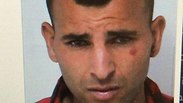 A violent Palestinian detainee facing armed robbery charges has escaped custody Saturday and is sought by the police.

The detainee, Ahmad Daraghmeh, was recently transferred from Hadarim Detention Center to a closed ward in Lev Hasharon Mental Health Medical Center.

According to a preliminary investigation, Daraghmeh was taken outside for a walk when he took the opportunity to escape from the medical personnel accompanying him and flee.

The Israel Police has search parties in an effort to find him. They advise caution to anyone encountering him, dubbing his behavior violent and unpredictable.

Daraghmeh was staying in Israel illegally before he was arrested for an attempted motor vehicle theft.