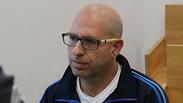 Teacher Shaul Shamai
Photo: Motti Kimchi
Pedophile teacher sentenced to 7 years in prison
Tel Aviv District Court sentences Shaul Shamai, who admitted to statutory rape of 6 girls in plea bargain; 4 of the girls were students at his school, while he tutored remaining 2; judge also criticizes fact that Shamai was previously charged in another sexual assault case but was allowed to remain a teacher.
A teacher convicted of statutory rape of six young girls, some of whom went to the school in which he taught, was sentenced on Monday to seven years in prison.

The teacher, 49-year-old Rishon LeZion resident Shaul Shamai, was convicted as part of a plea bargain. Four of his victims, aged 7-8, were pupils at the school while the remaining two received private lessons from him.

In addition to the seven year sentence, Tel Aviv District Court Judge Zvi Gurfinkel gave Shamai an 18 month suspended sentence and ordered him to pay each girl NIS 25,000 in compensation.

While the plea agreement was approved back in January, the parties could not reach an agreement on the sentencing, with the State Attorney's Office pushing for a sentence of 10 to 18 years.

Judge Gurfinkel said at the sentencing that, "The severity of the defendant's actions could not be overstated. He abused his position as teacher and educator and the trust his students placed in him to systematically carry out his deeds."

Gurfinkel also criticized the fact that a report of a previous conviction in a similar case was not made known to the relevant authorities, allowing him to continue to serve as a teacher. "The offenses in this case were committed while the defendant was charged with sexual assault in another instance, all while serving as a teacher," he said.

The attorney representing the Tel Aviv District Attorney's Office commented on the sentence, saying, "The court has accepted our position and levied the defendant with a harsh sentence in accordance with the grave circumstances of the case."

The prolonged prison sentence, attorney Kineret Kahan Mor added, will serve as a deterrent for anyone entrusted with the safety and well-being of children, who then takes advantage of their naiveté and helplessness to harm them.

Shamai's attorney Tali Gottlieb provided comment of her own, saying, "The court accepted all of our claims, as to the fact that while we have an obligation to send a perpetrator to prison we must also, as a society, take into account that he confessed, showed regret and asked for treatment."

"The mere fact that my client confessed is rare and unusual in cases such as these, and speaks for itself in reflecting his true, honest regret without first securing a promise for any (reduced) punishment," she added.

The victims' lawyers said on behalf of the families: "As the District Court's verdict shows, this is a horrifying case, which undoubtedly could have been prevented—as could the immense harm caused to the helpless minors, who were exposed to the pedophile teach—with better conduct. Now, with the completion of the criminal proceedings, a damages claim will soon be filed against all of the relevant elements, and we can only hope the necessary lessons will be learned to avoid terrible cases such as this from repeating."

Shamai worked as a substitute teacher at an elementary school in northern Tel Aviv from October 2016 until June 2017. He was arrested after one of the students told her mother he had hurt her, and the mother complained to the principal.

The teacher was charged in June 2017 with multiple counts of indecent acts against four second grade students and a 13-year-old girl he was privately tutoring. He was also charged at the Magistrate's Court in the city with working at an institution despite being convicted of a sexual offense.

While 10 complaints have been made by second grade students against Shamai, only five complaints were eventually included in the indictment.

According to the indictment, during his time at the Tel Aviv elementary school, Shamai sexually assaulted girls aged 7-8 in several separate incidents. He allegedly carried out the acts during class and in front of the other students in the classroom.

Shamai sat the students down on his lap, put his hands under their clothes and touched their private parts, at times despite their verbal and physical objections.

The sentencing also included another case in which Shamai was convicted of indecent acts against another girl he was giving private lessons to. In that instance, the suspect had fondled the girl and attempted to kiss her on several occasions.

Shamai also admitted to not informing the school principal he had been previously convicted of a sexual offense.