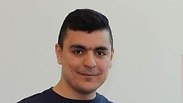 Iraqi Muslim: Israel is my second homeland, Israelis are my people
Taj al-Hasani's father was a nuclear scientist who was executed by Saddam Hussein. After fleeing to Europe, he now studies in the US and devotes his time and energy to pro-Israel activity on campus. 'I send heartfelt wishes to all Israeli snipers and soldiers who are fighting not only to defend the state, but the entire Western world,' he tells Ynet.
Israel's PR system is deployed around the world and includes diplomats, government workers, spokespeople, media advisors and different experts, organizations and associations.

They are all fighting for Israel's reputation in the global public opinion, under difficult conditions, especially in light of the escalating tensions on the southern border with Gaza and the names and pictures of Palestinian victims being distributed on television networks and social media. These bloody sights have received particularly large exposure in Arab countries, where they feed the hatred of angry citizens seeking revenge against the "Zionist entity."

What's the response to this negative PR offensive? Taj al-Hasani is an example of a new potential form of action: A Muslim student from Iraq who has been devoting his time and energy on the Wayne State University campus in Detroit, Michigan to pro-Israel activity.

Hasani shared with Ynet his ways of fighting the wrong assumptions concerning Israel which young Arabs have been educated on. Surprisingly, he is determined to advance a dialogue out of an appreciation for the Jewish nation state, as part of several pro-Israel organizations he has become part of.
'People say I'm a Zionist agent'
Hasani, 32, was born and raised in a Shiite Muslim family in Baghdad. His father was a scientist who specialized in nuclear physics in India and was executed at Saddam Hussein's order over his refusal to take part in Iraq's military industries.

Taj al-Hasani's message to Israelis

As an outstanding student, he qualified for medicine studies. About a decade ago, however, he was forced to escape to a European country which offered him political refuge after he was persecuted, he says, by local militias for serving as a US Army collaborator in the country.

"I was enlisted by the American military forces in Iraq and became an interpreter thanks to my fluent English and the officers' faith in me. That was the reason I was personally persecuted by local militias and was forced to flee to Europe," he says.

He was granted citizenship in the country he had escaped to, and after an acclimation period he left to study in Detroit, where he reunited with his mother and sister who had immigrated to the United States earlier. Now, he is about to complete his bachelor's degree in biology and hopes to study medicine next. Between classes, he is active in the Hillel of Metro Detroit organization and in the Students for Israel group on campus.

"I'm involved in activity to educate people, especially Muslim Arab youth, about a truth they have no access to and have heard and know nothing of. I'm very active in exposing anti-Israel and anti-Semitic lies and refuting their propaganda," says Hasani, who is also working to get the Iraqi public and government recognize the persecution of members of the country's Jewish community and the need to restore their property.

"I'm trying to make the Iraqi government recognize the massacre that was committed in the past against the Jewish citizens and compensate their offspring. This property, worth millions of dollars, should be returned to its lawful owners. I am working to spread the information on this historical tragedy and make the government apologize for it."

I assume you have to deal with quite a few threats and harassment following your activity.

"I get a lot of threats through social media, and I'm accused of being a Zionist agent, a traitor, etc. Although I live in the United States, I don't feel 100 percent safe, as there are more than enough radical Islamic activists who may see me as a target because of what I do.

"As for Iraq, I clearly have zero chances of surviving there, with all the terror groups and the militias that want to kill me for being a pro-Zionist activist. My extended family, my friends and acquaintances completely oppose my views too. Many of them have stopped talking to me and are ignoring me. Many of them believe I have sinned or have been caught in an illusion."
The terror attack that changed everything
Hasani's attraction to Israel began during his youth in Baghdad, but it wasn't obvious of course. In elementary school, he says, he was mainly exposed to hate-filled anti-Zionist education, afflicted with anti-Semitism.

"I grew up in a closed Muslim society and experienced the same brainwashing other children were subject to in school, that 'Jews are the devil, God's enemies, who conquered the Arab land.' I learned the truth at the age of 13 after thorough research I conducted myself, following my conscience and going against the dark doctrine dominating the society around me."

What made you break through the ideology instilled in you by the educational system?

"The turning point arrived when I was in the sixth grade. I watched a report on Iraqi television about a suicide bombing committed by a 22-year-old female Palestinian terrorist on a bus filled with children. For the first time in my life, I saw Jews, and they were children just like me. I was shocked to discover that Jews are actually humans, who feel pain and cry. Beforehand, all I was familiar with was the visual image that was instilled in me of Jews as heartless wild animals.

"I remember running to the top floor of my house and crying. My heart was crushed over the children on the bus and their heartbroken mothers. My mother explained to me that the Jews are humans just like us and that I should love them. She warned me, however, not to discuss the issue in school because we could be executed for it. Following this incident, I was motivated to start researching the Israeli-Arab conflict thoroughly."

The conclusions Hasani has reached from his research about the conflict are pretty clear, and they're basically black and white: Israel is right; the Palestinian and Arab states are wrong. These conclusions have also led to his assertion that one state for two people is the only possible solution.

"I believe that a State of Israel in which Arabs and Jews can live together in coexistence is the only realistic way of solving the conflict," he says. "People don't know that there are already a million and a half Arabs living in Israel as citizens with equal rights. This should be implemented in Judea and Samaria as well, or else the Palestinian state will turn into a larger version of the Hamas rule in Gaza."

But Israelis see one state for two people, in which all citizens have equal rights, as a major threat to the Jewish majority and an existential threat to the State of Israel as we know it.

"I understand the legitimate concerns, but what's the alternative? Everyone knows that a Palestinian state is unrealistic. From a practical point of view, there's no geographical, economic or any other possibility for such a state, which will also serve as a base for attacks on Israel. Furthermore, the West Bank and Gaza are parts of historical Israel and must not be conceded.

"I am certain that Israel is capable of changing constitutional approaches to solve the concerns, even in a binational state, and the residents of Gaza and the West Bank will be assimilated later on as full-fledged Israeli citizens."

Meanwhile, the situation on the ground fails to support this possibility and the conflict is only escalating, especially these days. Hasani's great love for Israel—which some may call naïve and blind, and others may define as flattery—is countered by many Jews in the US and around the world, and even Israelis, who are strongly opposed to Israel's policy in the territories, especially in light of the recent protest on the Gaza border.

Actress Natalie Portman, for example, decided not to come to Israel to accept the Genesis Prize, explaining that she didn't want her presence at the ceremony to be seen as a show of support for Prime Minister Benjamin Netanyahu and his government.

"My message to her and others who criticize the Israeli government and its response to the riots is not to fall for the fabricated reports from the media and the falsification of facts," Hasani says.

"Israel, like every other nation, has a right to self-defense. The violent crowds of Hamas and its supporters want to destroy the fence and break into Israel illegally. We mustn't forget that Israelis were murdered on a daily basis by Hamas suicide bombers before the IDF built the fence. The enemy's media are trying to present IDF heroes as cold-blooded murderers, and the trespassing terrorists as peaceful protestors. All countries have the right to use lethal force in border breach cases, so why not Israel?"

What's your message to the IDF?

"The IDF is the most moral and ethical army in the world and it is praiseworthy. By supporting the IDF heroes who risk their lives on the front against the Hamas masses, I am following my conscience. I send heartfelt wishes to all the Israeli snipers and soldiers who are fighting not only to defend the state, but the entire Western world. Thank you, good job, and may God lead you to victory against the forces of evil who want to destroy Israel."

Do you have any criticism against the Israeli government's conduct?

"My only criticism is that Israelis should do a better job appealing to the Arab world, refuting the lies being spread about them and understanding that there are millions of young Arabs who want to listen to the Israeli side of the story. The Arab world's media domain mustn't be left to television channels like Al-Jazeera and Al-Arabiya, as their main purpose is to brainwash the viewers about Israel."

And how should Israeli PR efforts reach those young people, in your opinion?

"The best way to build bridges of communication with the Arabs is through social media. It's a very efficient tool which provides a private, anonymous and safe ground for young Arabs to establish direct contact with Israelis, to ask questions and to listen to the other side of the story.

"For example, my friend Niran Bassoon Timan, a British Jew of Iraqi descent, opened a Facebook page called 'Iraqi Jews,' which has more than 23,000 members. Thanks to her Iraqi Arabic, and her fluent English and Hebrew, she has been very successful in presenting the history of Jews from Arab states to Arab readers. I see many Iraqis there who support her by leaving positive comments about Israel on her page and expressing a desire to visit Israel.

"YouTube channels are a powerful tool too. Israelis of Sephardic descent can play a significant part in building those bridges and help break the barrier of fear and silence. That's basically what I'm actively doing on campus."
'I see Israel as my second homeland'
While Hasani devotes his life to pro-Israel activity, he hasn't forgotten about his people and about his homeland, Iraq, and he hopes one day it will rebuild itself as a state inspired by the Israeli model.
"Israel is one of the strongest and most solid democracies in the world. It faces some of the worst enemies and is among the leading nations in the fields of technology, research, resource management and infrastructure. Iraq has a lot to learn from Israel. The Iraqis should follow the footsteps of Israel's citizens concerning the establishment of the state's institutions and the implementation of a secular government model. It's the only way to save the country from the factionalism, corruption and ignorance that have led to a rift in the political echelon, as well as in the social and civilian fabric."
Iraq's fragile fabric, torn between Shiites and Sunnis, has been crushed since Saddam Hussein was toppled. But Hasani, who was born during the tyrant's rule, doesn't miss those times. He is still grieving for the loss of his father, who was executed for his refusal to become part of Saddam's nuclear infrastructure. In this context, he recalls different impressions from his childhood after the Iraqi reactor in Osirak was destroyed by the Israel Air Force in 1981.
"I remember people talking about the operation, but not at length. According to what I heard from many Iraqis, they were frustrated by the operation because the reactor was a source of national pride for them," he recalls.
"However, many people reacted with a sense of relief when it happened, because they knew that a nuclear weapon in the hands of a crazy leader like Saddam Hussein would lead to Iraq's destruction in a counterattack by Israel or the United States. Besides, he could have used such a weapon against his own people, like he used chemical weapons against the Kurds. He was a mentally unstable tyrant and could have also used a nuclear weapon, so many of them are grateful yet very frustrated."
You love Israel from afar. Would you perhaps like to make it your home?
"My greatest aspiration is to visit Israel and document it on video, to show the Arabs the reception and beauty of this great nation. I'm certain Israel would be my favorable option if I wanted to live in the Middle East after completing my studies in the United States. It would be a great privilege to receive an Israeli citizenship and the greatest honor I would ever receive.
"If God leads me to the chosen people's Holy Land, I will feel blessed to serve as a doctor for the state's citizens or IDF heroes. I will love Israel forever. I already consider it my second homeland and the Israelis as my people.
"There are Babylonian Jews who have lived among us in Iraq since the days of King Nebuchadnezzar, so the two countries share a significant past. Israelis and Arabs lived side by side in Egypt and in the Middle East for years and will continue to do so for thousands of years to come, hopefully out of peace and coexistence. This makes me feel emotionally connected to the people of Israel."