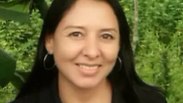 Guide who helped Israelis escape FARC captivity found dead
Tour guide found dead several days after she helped 2 Israeli tourists escape captivity by vicious armed dissidents from a disbanded guerrilla movement; tourists said she 'did everything she could' to protect them, and when they left, assured them with a smile 'everything is okay.'
An Argentine woman leading Israeli tourists on a tour of marijuana-producing areas of southwestern Colombia has been kidnapped and then murdered by alleged FARC rebels, Colombian authorities announced Thursday.

The woman, 47 year old Berenice Blanco, and two Israeli tourists were kidnapped last Saturday while on a so-called "cannabis tour" the latter two took as part of their post-army backpacking trip.

They were travelling in the area of Cauca on Saturday, May 19, when they were abducted by armed men who identified themselves as dissidents from the Sixth Front of the Revolutionary Armed Forces of Colombia (FARC), an armed guerrilla movement funded by kidnappings and ransom, illegal mining, extortion and distribution of illegal narcotics.

While FARC officially disbanded last year, offshoots of the movement are still active in the Latin American country's jungles.

The group released the Israelis three days later, but retained Blanco, demanding a $100,000 ransom from her family in Argentina.

Her body was recovered on Wednesday in the municipality of Corinto, Colombian authorities revealed.

After escaping captivity, the Israeli tourists—Omer Yefet and Gal-El Yaakov, both 22—expressed worries over the fate of Blanco, whom they called "Monica."

The two said she managed to save them by convincing the kidnappers that their families could not afford to pay their ransom. According to Yefet, the head of the gang—referred to as "el Patron" by Blanco—wanted 500 million pesos ($172,500) in exchange for their release, which he claimed was owed to him by the tour company that employed Blanco.

"Monica did everything she could to ensure that we were all right and to protect us in the process ... Unfortunately, I do not know what happened to her," Yefet said in an interview after his release. "It's not a situation where you can ask something, after you've been kidnapped for seven hours. When we left Monica, she told us with a smile, 'I know people who know how to get me out of this, everything is okay.'"

With "Monica"'s efforts, the two were released unharmed.

Blanco worked for "Colombia Cannabis Tour," a company offering visits to areas of narco crop cultivation in the Cauca area, which is frequented by FARC dissidents as well as members of the Gulf Clan drug trafficking operation, according to authorities.

Cannabis has been grown for medical purposes under state license in Colombia since 2015, but the marijuana fields in the Cauca region have traditionally been used to finance militant groups.

Under a 2016 peace accord, FARC disarmed its 7,000 fighters and has now become a political party.

However, the government says some 1,200 fighters have rejected the peace process and are still active in drug trafficking and illegal mining.